---

Les compilations du label Rough Trade


---
(article modifié pour la dernière fois le 23 avril 2006)


Comme de nombreux labels indépendants, qui sortent souvent des singles à tirage limité, assez mal distribués surtout à l'exportation, Rough Trade a utilisé dès 1980 le système des compilations pour faire connaître ses disques dans les pays où il signait des contrats de distribution (comme la France), où dans les deux pays qui ont créé des filiales de Rough Trade (l'Allemagne et les Etats-Unis). Pour beaucoup, dont votre serviteur perdu au fin fond de la province françaises, ces compilations ont permis de faire connaissance avec le label et sont longtemps restées les seuls disques connus et disponibles. Elles étaient d'autant plus intéressantes que, souvent, elles ne se limitaient pas uniquement aux disques du label Rough Trade, mais intégraient aussi des titres de label diffusés par Rough Trade (Postcard Records notamment).


Voici quelques-unes de ces compilations, par ordre d'entrée en scène dans ma discothèque :
Wanna buy a bridge ?
(Rough Trade US, Rough-US 3, album, 1980)

Face A
Stiff Little Fingers : Alternative Ulster
Delta 5 : Mind Your Own Business
The Slits : Man Next Door
Essential Logic : Aerosol Burns
Television Personalities : Part Time Punks
Swell Maps : Read About Seymour
The Pop Group : We Are All Prostitutes

Face B
Spizz Energi : Soldier Soldier
Kleenex : Ain't You
Cabaret Voltaire : Nag Nag Nag
The Raincoats : In Love
Young Marble Giants : Final Day
Scritti Politti : Skank Bloc Bologna
Robert Wyatt : At Last I Am Free
La 1ère donc, avec de vrais tubes növö ('Nag nag nag' de Cabaret Voltaire et 'Soldier soldier' de Spizz Energi), des reggaes des Slits et de Scritti Politti, le 'Mind your own business' de Delta Five et le 'Final day' de Young Marble Giants, plus un titre des TVP's ('Part time punks', qui bizarrement ne me plaisait pas plus que ça à l'époque. Existe avec une pochette verte.
(Selon un message posté sur la liste Typical Girls en février 2006, Acute Records a le projet de rééditer "Wanna buy a bridge ?")
Best / Rough Trade (Rough Trade France, HS 88, cassette, 1981)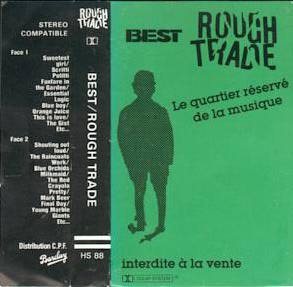 Sous-titrée 'Le quartier réservé de la musique', estampillée 'Interdite à la vente', cette cassette est sortie à l'occasion de la signature d'un contrat de distribution de Rough Trade pour la France avec Barclay. A cette occasion, Best avait publié le premier grand article sur le label, et offrait cette cassette aux premiers lecteurs qui renverraient le coupon-réponse. Bingo ! pour une cassette qui enchaine le 'Sweetest girl' de Scritti Politti, le meilleur morceau d'Essential Logic ('Fanfare in the garden'), le 'Blue boy' d'Orange Juice, sans parler des sept titres de la face 2 : Raincoats 'Shouting out loud', Blue Orchids : 'Work', Red Crayola : 'Milkmaid', Mark Beer : 'Pretty', Young Marble Giants : 'Final day', Robert Wyatt : 'Strange fruit' et le 'Magnificent dreams' des TV Personalities, le morceau qui finalement m'a fait m'intéresser au groupe !
NME / Rough Trade : 'C 81'
(Rough Tapes UK, Copy 001, cassette, 1981)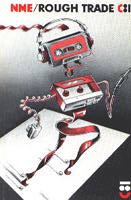 A la base la version anglaise de la cassette Best, mais vendue cette fois-ci aux lecteurs du NME. Le succès de cette cassette a été tel que NME et Rough Trade ont refait le coup en 86, avec la compilation C86, beaucoup moins intéressante, mais qui a lancé tout un mouvement musical.
L'intérêt de C81 est qu'on y trouve quelques inédits : un des meilleurs titres des Buzzcocks ('I look alone', enfin édité officiellement récemment sur la compilation 'Produt'), un instrumental de The Gist, un titre live de Pere Ubu, etc.
Rough Trade Deutschland compilation
(RTD 5, album, 1983)
Face A
Aztec Camera : Pillar to Post
Weekend : Past Meets Present
The Gist : Love At First Sight
The Raincoats : No-One's Little Girl
Robert Wyatt : Shipbuilding
The Go-Betweens : Hammer The Hammer

Face B
The Panther Burns : I'm On This Rocket
Shockabilly : A Hard Day's Night
Zounds : More Trouble Coming Every Day
Mofungo : El Salvador
Virgin Prunes : Pagan Lovesong
Cabaret Voltaire : Yashar
En quelque sorte une compilation de la 2ème génération Rough Trade : les Young Marble Giants sont devenus The Gist et Weekend, Aztec Camera et The Go-betweens sont là, mais aussi Shockabilly, Zounds et Mofungo.
Rough Trade Records compilation
(Rough Trade Deutschland, album, 6434 089, 1981)

Beaucoup de points communs avec les autres compilations de 1980/81, mais quelques compléments de bon aloi : la 2ème parution du label (Augustus Pablo), Girsl at our Best, The Fall et le 'Not happy' de Pere Ubu.
Celle-ci je ne l'ai vue qu'en ventepar correspondance sur un site :
Long Distance - Rough Trade compilation
(Nuevos Medios, Espagne, album, 43-010L, 1982)

Face A
GIRLS AT OUR BEST POLITICS
RED CRAYOLA BORN IN FLAMES
YOUNG MARBLE GIANTS FINAL DAY
CABARET VOLTAIRE SECOND TOO LATE
THE FALL TOTALLY WIRE
DELTA 5 TRY
TV PERSONALITIES I KNOW WHERE SYD BARRETT LIVES

Face B
ROBERT WYATT CAIMANERA
MARK BEER PRETTY
WIRE OUR SWIMMER
PERE UBU NOT HAPPY
JAMES BLOOD ULMER ARE YOU GLAD TO BE IN AMERICA
Celle-ci est un peu plus tardive. Il y a des points communs avec les précédentes (Young Marble Giants, TVP's, Delta 5, Mark Beer...), mais aussi des sorties plus "récentes" en 82, notamment le rare single de Wire, "Our swimmer".