MATT WARD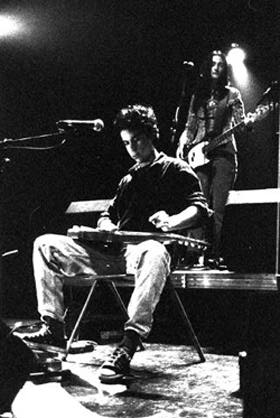 Matt Ward & Laureline Prom with Giant Sand in Blois, France, october 2000. photo © 2000 Cathimini

M. WARD AT L'OLYMPIA ! (july 2007)
And that was three nights in a row ! Matt wasn't headlining, but it was more than just an opening act, as the star of the day, Norah Jones, duetted with him on four songs (Le Monde article here). Actually, after providing backing vocals on one track on "It's not too late", Norah Jones' latest album, Matt was invited to open for her on a full world tour. And as the album topped the sales charts in 17 countries, including the USA, UK and France, this means M. Ward gets to play the world's most famous venues and festivals. That's great for him, and you can have a glimpse of what it sounds like here.
THE ARCHANGEL'S VISITS (december 2000)
Since his album "Duet for guitars #2" reached us last summer (see review below) more than one year after its original ultra-confidential release, Matt Ward has hardly left the spotlight in Europe. And I won't complain because, if I played the unnerving derisory game of end-of year best-of listings, I'd be happy to be able to put forward a young revelation, beside a patriarch, Johnny Cash, and confirmed artists like Giant Sand and Lambchop.
In september, two young enterprising labels, 62TV in Belgium and Les disques Mange-Tout in France, have released "Duet for guitars #2" over here, with an unhoped for bonus, the "Scene from #12" maxi, which holds three songs recorded more recently.




At this level of quality, we won't even mention B-sides or extra tracks, so good are these three titles. "Wild minds", with a bass sound at the front and a marked rythm could be some slowed-down and disintegrated hip-hop. The lyrics evoke some women who won't wait, and someone who is fooled by beauty, and even fooled by a fool...
"Carolina" is a ballad on the same kind of lyrical thread as Luna Parker's "Tes états d'âme Eric" or Isabelle Adjani's "Ohio" (i.e. songs with puns on US States name). With the modified sound on the second mike, the triggering of a classical music sample and the general tone of home recording, you can understand in retrospect what ignited Howe Gelb's interest for Matt Ward's music. As for the lyrics, running along the line of "I'm walking backwards to where I'm coming from, but it's not enough now you want me to run",along with those of "Wild minds" and "Good news", - if they are if only slightly autobiographical - they tend to indicate that the author has lived at least one blues-inducing love story. But we won't dig farther into this because, as Matt Ward explains himself in the rather delirious bio that you cand find on 62TV's web site, "the precise events that are overlooked in the bio are the exact events of greatest influence". During "Carolina", when the second voice comes in, and when Matt takes his voice up to a higher range, as he obviously likes to do, you are entitled to swoon.
The third song, "Going away" is also a very dark and very beautiful acoustic ballad.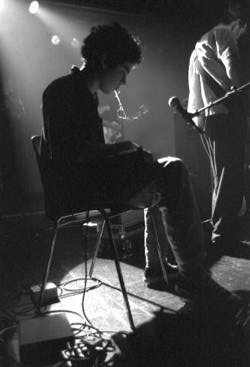 Matt Ward & John Parish with Giant Sand in Evreux, october 2000. photo © 2000 Cathimini
As early as october, the "supergoup" tour of Giant Sand came along, with a line-up featuring guests John Parish, Candie Prune, and Matt Ward on lap steel guitar. It allowed me to meet in Reims and then in Nantes a demure young man, less tall than the photo published a few days earlier in Les Inrockuptibles had led me to think. When the bill allowed it, Matt opended for Giant Sand,or played a few of his songs during Giant Sand's set, like he did in Nantes with a good version of "Good news".
The tour was hardly over that "Come on beautiful", a tribute compilation to Mark Eitzel initiated by Willard Grant Conspiracy's leader, was released. This very good record - it made me love some American Music Club songs, whereas I'd never been hooked by the few I'd listened to in the past t (but the track listing features such greats as Chris & Carla, Lambchop and Calexico) - allowed Matt Ward to feature his lap steel on record for the first time, with a sprightly version of "Fearless", which sounds better than the original to me, although it was one f the best songs on American Music Club's "San Francisco" album.
So, obviously, Matt Ward hasn't had much time to rest this autumn, seeing as, in november-décember he was back for a European tour, under hs own name this time, accompanied by Jordan Hudson and Tony Moreno, opening for Willard Grant Conspiracy, Superflu,Grandaddy, and even headlining the Reims gig at the M.J.C. Claudel.
I missed the beginning of a very short opening set before Grandaddy in Lille, but still I could appreciate the taste for adventure and musical research of the trio, with its mouth organs, sound trafficking and risk taking, in great contrats with the headliners, in the big cold but crowded hall that the Aeronef venue was that night.
The tiny M.J.C. Claudel wasn't full three days later, and we enjoyed an intimist concert, with moods ranging from folk (Matt even attempted an instrumental rag on an unamplified acoustic guitar) to electric pop, including a cover of the Velvet Underground's "Pale blue eyes" and one of a Yo La Tengo song.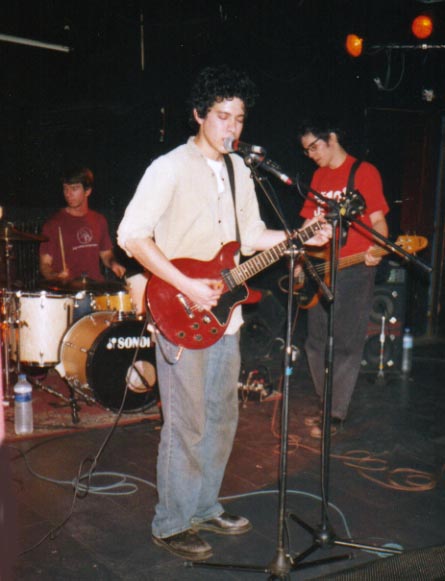 Matt Ward at the M.J.C. Claudel in Reims, december 11th 2000. photo Pol Dodu
To round up the Matt Ward year, the latest issue of the Abus Dangereux magazine gratified us with an interviw with Mr. Ward, and also with an unreleased track on the accompanying CD, "Archangel tale", yet another ballad, exposing Matt Ward's fragile voice. A track which is a taster for the second album, "End of amnesia", to be released sometime during Spring 2001.
And for those who might have been made curious by Matt Ward's records, they can, like me, take an interest in "Swing like a metronome",the Rodriquez album, on which Jason Lytle from Grandaddy and Adam Selzer (producer of Matt's solo records) share production duties. Matt Ward is not the only singer in Rodriguez, and the band hasn't got the same diy and fragile sound as the solo records, but several songs , and especially "Teresa", are of good quality, and very close to those released by Matt Ward under his own name.

---
M. WARD BRINGS GOOD NEWS (august 2000)

As an introduction to the world of music, you can do worse ! This first solo album by Matt Ward comes to us via Howe Gelb's label, Ow Om (although you could have bet, seeing the name of the label and the previous releases by Giant Sand and Howe Gelb, that the label existed solely to release the overspilling productions of its founder), while in 1999 the album of his band Rodriguez was partly produced by no less than Jason Lytle, of Grandaddy. And when you know how much esteem Howe Gelb and Jason Lytle have for each other, the association of these two patrons can only whet the appetite of the optimistic hip-pop fan.

Still, both the sleeve and the title of "Duet for guitars #2" are rather deceiving. The record comes in a nice die-cut carboard wrapping, but with a quasi gothic black and white photograph (a disquieting staircase, a, gueridon, beams), and with a title like this, I rather expected an instrumental record giving a prominent place to guitars.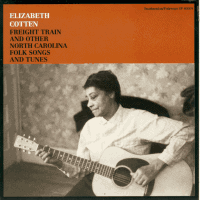 Of course I was wrong ! Matt Ward's music has nothing to do with Siouxsie and the Banshees or Nine Inch Pumpkins, and if the track that gives its title to the album is actually a guitar instrumental reminding Elizabeth Cotten a little, there is only one other track of this kind in the twelve that make up this rather short half-hour album. Ans as for duos, Matt Ward plays all the guitar and keyboard parts, and he is accompanied by his producer, Adam Selzer, only for some percussion and the mandolin and dulcimer parts.
No, this record belongs actually to those that sound as if they were recorded under the front porch of a wooden American house : it is made up of pop/folk songs, rural, belonging to a lineage that includes Howe Gelb's solo Hisser, the best (quietest) Sparklehorse songs and Will Oldham.
My favourite songs are the quieter, very lo-fi ones, infused with Matt Ward's fragile, nearly broken voice. Howe Gelb recommends particularly the poignant "Good news" (and he's right, of course), but "Beautiful car", "Who may be lazy", "It won"t happen twice" and "Song from Debbie's stairs", are also very good.
The faster tracks with drums, like "Look me over", "Scene from #12" or "He asked me to be a snake and live underground", could be cousins of those of another Portland resident,Elliott Smith (since it is there that Matt Ward seems to have settled for now, after staying in Chicago, Seattle and California), while the voice and the changes in rhythm of "Fishing boat song" remind us of Grandaddy.
This album, to which Howe Gelb has decided to give a limited edition release after falling for it, is for now only available through Giant Sand's website, but the good news for the Europeans is that it should be released this Fall by TV62/Les disques mange-tout, preceded this month by a maxi-single, "Scene from #12", which will feature three new songs.
For our happiness to be perfect, we only need the announcement of a forthcoming European tour by Matt Ward!
---

Discography
M. Ward
Duet for guitars #2, (Ow Om & 62TV/Les disques Mange-Tout, album, 2000)
Scene from #12, (62TV/Les disques Mange-Tout, maxi, 2000)
un titre (?) sur "Mute" (Hush recordings, compilation, 2000)
Fearless sur "Come on beautiful" (Bignight/Glitterhouse, album compilation, 2000)
Archangel tale sur "Le CD Abus #57" (Abus Dangereux, maxi compilation, 2000)
End of amnesia, (Glitterhouse & 62TV/Les disques Mange-Tout & Loose & Future farmer, album, 2001)
Live music & the voice of strangers, (tour CD, album, 2001) (contains 4 tracks recorded live in Reims)

Contact : www.giantsand.com/mward

Rodriguez
Cashcrops & boxplots (LuLu, cassette, 1995)
Weren't a problem (Co-Dependent, 7" single,1997)
un titre (?) sur "Inbred : sounds of the San Joaquin Valley" (Future Farmer, compilation, 1998)
Swing like a metronome (Devil in the woods, album, 1999)
---