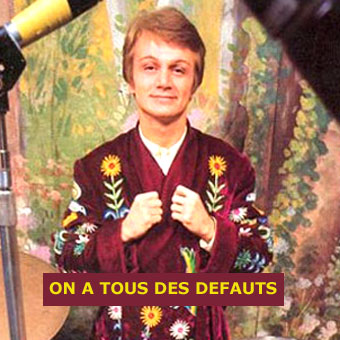 Compiled by Pol Dodu, december 2004.
By clicking on the underlined titles, you might get access to a downloable MP3 file, supplied by the artists, their labels or their touring agents.
Far from any best-of compilation or all those end-of-month, end-of-yer or end-of-the-decade selections, this compilation gives the opportunity to Vivonzeureux! to dwell on the records that have accompanied us recently and have provided us with a great quantity of joy and musical pleasures, from CocoRosie to Laura Veirs, including the Sorry But Home Recording artists and Junkie Brewster. And it gives you an easy access to a tonic concentration of lucidly hoptimistic musical productions.
This collection is dominated by one instrument, the ukulele, which of course can be heard on Tahiti's Maeva recording from the 1950's, but also on Yayahoni's track, one of the Herman Dune brothers who has recorded some cover songs at home, on Sandy Burnett's and on Strasbourg ukulele student Junkie Brewster's masterful cover of Madonna's "Like a prayer".
CocoRosie and Laura Veirs have provided me with good vibrations all year long, CocoRosie with their first UFO-like album, Laura Veirs with her latest album "Carbon glacier" as well as with the previous ones i've only listened to recently. The French are also present : Le Vieux Thorax is perfecting his art with each successive release : his "Le Sarkozy du disque" his a politicomico-musical manifest, and he's started influencing other artists (Le Pierre Tornade Sound System) ; I have also studied with great interest Superflu's past, and especially "Mékita", while waiting for their third album, scheduled for release in 2005 on a new label. And above all, I've had a ball with the releases by the grenoble-based Sorry But Home Recording label, especially those by its leading lights Les Frères Nubuck and Bingo BIll Orchestra.
Sufjan Stevens, an escapee from The Danielson Famile, has been much talked about following his recent solo records, but I prefer his comparatively older Christmas song selected here, that I got to know through a compilation released by the A découvrir absolument webzine. Jonathan Richman has toured Europe twice again this year (including a concert in Paris), and has released an album with the a fleshed-out orchestration, provided notably by Greg "Curly" Keranen's double bass. Sandy Burnett (Jim Shepherd from The Jasmine Minks) recorded his demo in the family living-room, using the sound of the TV the kids were watching as an accompaniment. As for M. Ward, he gave a very emotional performance of "Fuel for fire" on a US morning radio show. Thsi song should find its way on his fourth album in 2005.

Pol Dodu, décember 2004
collection : "Not available"
ref : not available 008
release date : december 12th 2004

1 COCOROSIE : Jesus loves me (2004)
from "La maison de mon rêve" (Touch and Go)
info : www.konzert-buero.de/bands/cocorosie


2 LAURA VEIRS : Bedroom eyes (2003)
from "Troubled by the fire" (Bella Union)
info : www.lauraveirs.com


3 BINGO BILL ORCHESTRA : On a tous des défauts (2004)
from the best-of "200 kilos de papier" and the compilation "Les banlieusards" (Sorry But Home Recording Records)
info : www.sorrybut.com


4 LE VIEUX THORAX : Le Sarkozy du disque (2004)
from the single "Le Sarkozy du disque" (Ta Gueule)
info : www.vieuxthorax.citoyenlambda.net


5 LES FRERES NUBUCK : Nils (2004)
from "Chez les nudistes " (Sorry But Home Recording)
info : www.sorrybut.com


6 MAEVA : Mata refarefa (1958)
from "Tahiti Belle époque vol. 4 - Songs of the atolls and the islands" (Manuiti)
info : www.playasound.com


7 YAYAHONI : Chewing-gum (2004)
from "Yaya plays his favourite tunes in the morning"
info : www.hermandune.com


8 SANDY BURNETT : Big star (2004)
uneleased demo
info : www.jasmineminks.com


9 SUFJAN STEVENS : Put the lights on the tree (2002)
from "Hark! Songs For Christmas Volume 2" and the compilation "A découvrir absolument volume 2"
info : www.sufjanstevens.com


10 LE PIERRE TORNADE SOUND SYSTEM : Fantomas se défonce (2004)
from the single "Psychodirtyshit" (Schnaps)
info : perso.wanadoo.fr/lepierretornadesoundsystem


11 JUNKIE BREWSTER : Like a prayer (2004)
demo released online
info : junkiebrewster.free.fr


12 SUPERFLU : Mékita (1998)
from the "Superflu" EP (Le Village Vert)
info : www.superflu.com


13 M. WARD : Fuel for fire (2004)
live for the "Morning becomes eclectic" radio show on KCRW, 6/5/2004
info : www.giantsand.com/mward


14 JONATHAN RICHMAN : Behold the lilies of the field (2004)
from "Not so much to be loved as to love" (Vapor)
info : www.vaporrecords.com