---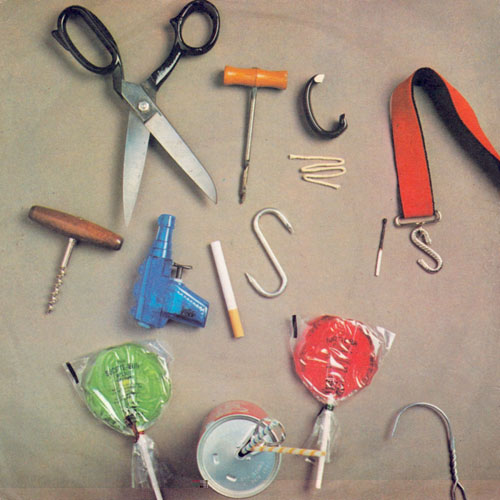 Une conférence musicale de Pol Dodu
Après l'explosion punk de 1976-77 et la séparation des Sex Pistols début 1978, une nouvelle ère musicale débute. Cette période musicale faste, celle de la new wave (ou post-punk), a préparé le terrain pour le rock indépendant et la techno pop des années 80.
Des tonalités synthétiques inspirées par Kraftwerk au côté sombre de Joy Division, on découvre que la new wave n'est ni un mouvement, ni une mode, ni un style musical défini, simplement une période de jubilation créative particulièrement intense qui a vu l'émergence de talents aussi divers qu'Elvis Costello, The Cure, Talking Heads ou XTC.
Des précurseurs des années 1970 à son influence sur la musique des trente dernières années, Pol Dodu évoquera en musique l'ensemble des facettes de la new wave.

Entrée libre dans la limite des places disponibles.
Les années new wave (1978-1982)
Conférence musicale à la Médiathèque de Vincennes, 11 décembre 2010
Introduction
Février 1978 : séparation des Sex Pistols, l'ère post-punk débute…
La new wave, pas de style musical défini.
Du punk à la new wave
De Johnny Rotten à John Lydon, des Sex Pistols à Public Image Limited
Howard Devoto, des Buzzcocks à Magazine
Siouxsie & the Banshees, les derniers punks non signés sortent The scream
Elvis Costello, du noir et blanc à la couleur
Warsaw, avant de devenir Joy Division, rejette les synthétiseurs

Une génération profite de la porte ouverte par le punk, des grandes figures apparaissent
XTC : White music, Go 2 et Go +
The Cure : Killing an Arab
B-52's : Rock lobster
Pere Ubu : The modern dance et Dub housing
Wire : Chairs missing
Gang of Four : Damaged goods
Brian Eno, un parrain précurseur influent
Brian Eno : King's lead hat
Talking Heads : More songs about buildings and food
Q: Are we not men ? A: We are Devo !
Ultravox! : Systems of romance
Compilation No Wave : No New York
The Flying Lizards : Summertime blues
Le synthétique se démocratise
Kraftwerk, les hommes-machines
The Human League : Electronically yours
Cabaret Voltaire : Nag nag nag
Suicide, le duo électro art-rock
The Normal : T.V.O.D. / Warm leatherette
Throbbing Gristle : United
Telex : Twist à St Tropez
Les fondations du rock indépendant sont posées
Rough Trade, Mute, Factory, Fast, Small Wonder
The Fall : Bingo master's breakout
The Monochrome Set : He's frank
Television Personalities : Part-time punks
Metal Urbain : Paris Maquis
C'est de la pop ? Du rock ? De la new wave ?
The Police : Outlandos d'amour
Gruppo Sportivo : Back to 78
Ian Dury : New boots and panties
The Specials : The Specials
Et en France ?
La "nouvelle vague" de Starshooter est encore plus proche de celle de Richard Anthony que de la new wave.
En 1978, Métal Urbain, Marie & les Garçons, Rosa Yemen
En 1979, Lizzy Mercier Descloux, Dr. Mix & the Remix, Suicide Romeo
et aussi plus tard Edith Nylon, Taxi Girl, A trois dans les WC, Marquis de Sade, Kas Product
Début des eighties : la new wave à son apogée
Joy Division et New Order
U2 et Simple Minds
Echo & the Bunnymen et The Sound
Young Marble Giants
Pour en savoir plus
Pol Dodu : Les classiques de la new wave
Pol Dodu : Chroniques de disques new wave
Simon Reynolds : Rip It Up and Start Again : Post-Punk 1978-1984 (Allia, 2007)
Guillaume Gilles : L'esthétique new wave (Camion blanc, 2006)
Clinton Heylin : Babylon's burning : du punk au grunge (Au diable vauvert, 2007)
Frédéric Thébault : Génération Extrême - 1975-1982, du punk à la cold-wave (Camion blanc, 2005)
Jean Rouzaud et Mariel Primois : Jean Francois Bizot présente la New Wave (Panama/Actuel, 2007)
Yves Adrien : NovöVision : Les confessions d'un cobaye du siècle (1980, rééd. Denoël, 2002)
Greil Marcus : Lipsticks traces : une histoire secrète du vingtième-siècle (Allia, 1999)
George Gimarc : Punk Diary: The ultimate trainspotter's guide to underground rock, 1970-1982 (Backbeat, 2005, en anglais)
B. George & Martha DeFoe : International discography of the new wave, volume 1982/83 (One Ten Records/Omnibus, 1982)
Diffusion d'extraits des disques suivants
Sex Pistols : Never mind the bollocks here's the Sex Pistols
Public Image Ltd : First issue
The Buzzcocks : Boredom
Magazine : Real Life
Siouxsie & the Banshees : Hong Kong garden
Vic Godard & the Subway Sect : Ambition
Elvis Costello & the Attractions : This year's model
Warsaw : 1977-1978 - Warsaw
XTC : Go 2
The Cure : Killing an Arab
The B-52's : Rock lobster
X-Ray Spex : Germ free adolescents
Pere Ubu : The modern dance
Wire : Chairs missing
Gang of Four : Damaged goods
The Passage : New love songs
Brian Eno : Taking tiger mountain (By strategy)
Talking Heads : 77
Ultravox ! : Systems of romance
Devo : Q: Are we not men ? A: We are Devo
Mars : No New York
Theoretical Girls : U.S. Millie
The Flying Lizards : The Flying Lizards
Kraftwerk : The man machine
The Human League : Being boiled
Cabaret Voltaire : Nag nag nag
Suicide : Suicide
Throbbing Gristle : United
The Normal : Warm leatherette/T.V.O.D.
Telex : Looking for St. Tropez
Snakefinger : Chewing hides the sound
Métal Urbain : Hystérie connective
The Fall : Bingo master's breakout !
Television Personalities : Where's Bill Grundy now ?
The Monochrome Set : The Monochrome Set
The Police : Outlandos d'amour
Ian Dury & the Blockheads : Hit me with your rhythm stick
Gruppo Sportivo : Back to 78
Lizzy Mercier Descloux : Press color
Starshooter : Betsy Party
Edith Nylon : Edith Nylon
Marie et les Garçons : Re-bop
Taxi Girl : Chercher Le garçon
U2 : Boy
New Order : Blue Monday
Young Marble Giants : Final day