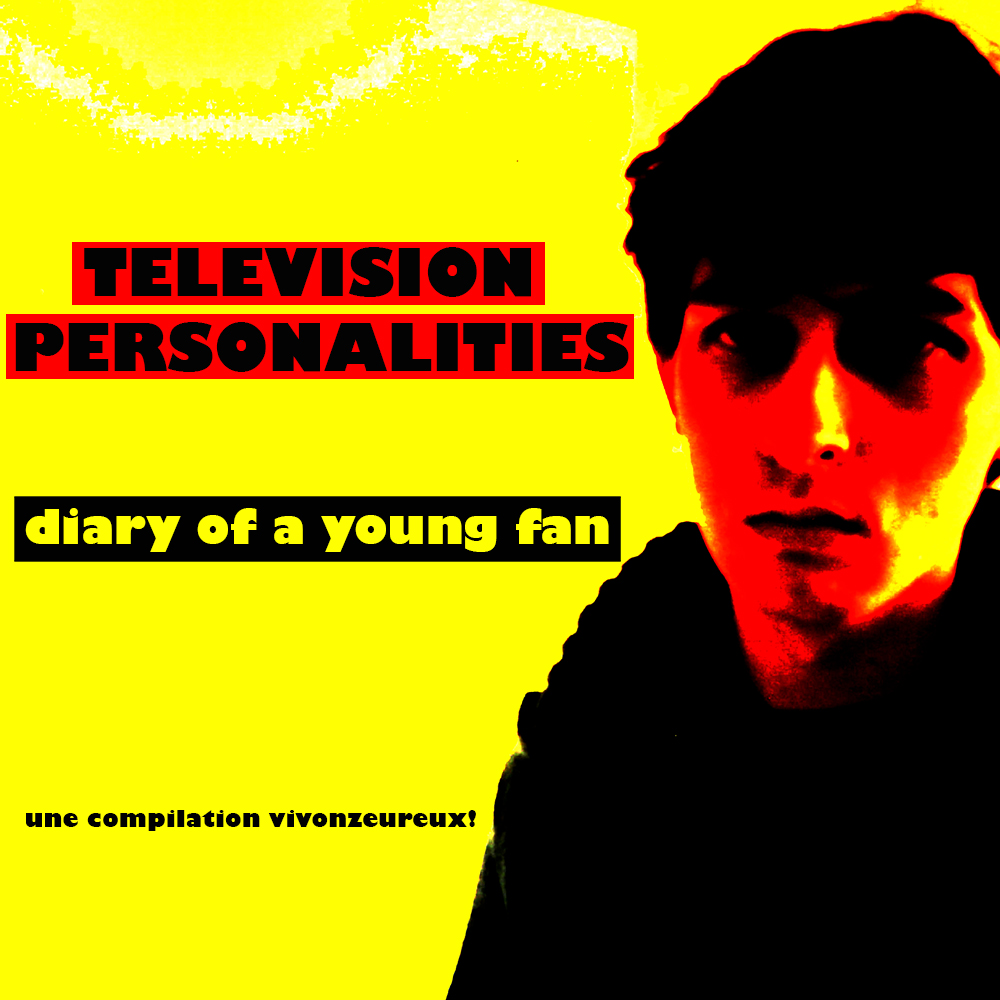 Voici une compilation qui sert à la fois de bande originale au livre Journal d'un fan de chambre et de rétrospective du parcours de Television Personalities. Pas si facile de condenser plus de trente ans de musique en quatre-vingts minutes, alors il a fallu faire des choix et se fixer quelques règles. Bien sûr, la sélection fait la part belle aux années couvertes par le journal, avec deux titres pour chaque album de cette période et un seul pour les suivants. Il y aussi quelques faces de singles et deux extraits de compilations. Évidemment, cette sélection est subjective et reflète avant tous les facettes de Television Personalities que je préfère, mais j'espère que Diary for a young fan pourra aussi servir de point d'entrée à qui souhaiterait découvrir le groupe.
TELEVISION PERSONALITIES :
Diary of a young fan
collection : "Not available"
réf : not available 026
date de sortie : 28 février 2017
format : CD 22 titres

Crédits :

Compilation et notes de pochette : JC Brouchard, août 2016.
Photo et pochette : JC Brouchard

Tous les titres sont composés par Dan Treacy sauf TV on in bed par Ziro Baby.


1. Three wishes (Single, 1982)

If I had three wishes I'd wish for three more
But dreams are for lovers and love is so precious
You're laughing, I'm crying, I feel like I'm dying
My naive illusions distraught by confusion

Le premier disque du groupe que j'ai acheté, et toujours un de mes préférés. La basse, la batterie, la petite ligne de clavier de cinq notes, tout sonne toujours parfaitement à mes oreilles.

2. Bright sunny smiles (The painted word, 1984)

There's me and there's Edward, there's Joe and there's Mark
We play in the garden and we stay out till dark
And we've all got bright sunny smiles (...)
But now we are grown up and life's not much fun

Une chanson sur l'innocence perdue de l'enfance. Un thème classique, mais la gaieté de la jeunesse semble ici l'emporter sur la nostalgie.

3. Part time punks (Single, 1978)

Television Personalities s'est toujours moqué de tout le monde, à commencer par les punks qu'ils côtoyaient sur King's Road, et ces faux punks qui "écoutent leurs disques très fort, mais seulement quand Maman est sortie". Un classique.

4. I remember Bridget Riley (Single, 1993, enregistrement 1987)

J'ai entendu cette chanson pour la première fois en 1984 sur la cassette The great British beat volume two du label Direct Tapes. Cet hommage à l'artiste anglaise d'art optique n'a été édité sur disque qu'en 1993 sur le You me and Lou Reed E.P., mais le groupe le jouait déjà au Clarendon en 1980 et il aurait eu toute sa place sur And don't the kids just love it.

5. Magnificent dreams (Mummy you're not watching me, 1982)

Just carry on dreaming your magnificient dreams
And if you need someone I'll be here to comfort you
I'll be here if you should need somebody
And if you're unhappy I'll share your tears with you
But don't throw your dreams away, tomorrow they may come true

La première chanson que j'ai entendue de Television Personalities, sur la fameuse cassette Best Rough Trade, sans en saisir du tout les paroles. On l'a retrouvée en fin de l'album Mummy your not watching me. Que dire ? Une chanson qui toujours me remplit d'émotion quand je l'écoute, et qui me transporte sans effort dans ma chambre de lycéen.

6. Miracles take longer (Compilation Let's try for an ideal guest house, 1987)

Une chanson au titre sûrement inspiré par une série télévisée anglaise diffusée début 1984, que le groupe interprétait souvent quand je l'ai vu sur scène au printemps 1984. Elle n'a été éditée fugitivement qu'en 1987 sur une compilation caritative.

7. Smashing time (Single, 1980)

S'il y a une boite à rythmes sur ce troisième 45 tours, c'est parce que Dan et Ed ont découvert avec horreur quand ils sont arrivés au studio pour l'enregistrer qu'il n'y avait pas de batterie. Le résultat, pop et léger, n'est cependant pas affecté.

8. TV on in bed (Don't cry baby it's only a movie, 1998)

La seule reprise de l'album. Une excellente version d'une chanson sortie en 1982 par The Tronics, le groupe de Ziro Baby, qui s'est aussi rendu célèbre en sortant sous le nom de Zarjaz un 45 tours de Baroqueabilly, sur Creation en 1985.

9. Diary of a young man (And don't the kids just love it, 1981)

I draw the curtains on another day
I pick up my diary but there's nothing to say
I went to see a friend to see how she's been
But when I got there she wasn't in

Une chanson que j'ai toujours trouvée profondément triste, parfaite pour l'époque de la New Wave et des grands manteaux noirs, où il semble qu'on se complaisait dans la mélancolie. Je ne comprenais pas les paroles à l'époque, c'est bien dommage car j'aurais pensé qu'elles avaient été écrites pour moi.

10. Me and my big ideas (Closer to God, 1992)

It's only me and my big ideas
It's enough to drive you to tears

Une des chansons enlevées de Closer to God. Elle aurait fait un excellent single.

11. A grocer's daughter (Single, 1986)

Une des excellentes faces B de How I learned to love the bomb. La "fille d'épicier" en question est Margaret Thatcher, et c'est l'une des bonnes chansons qu'elle a inspirées, après Stand down Margaret de The Beat et avant Margaret on the guillotine de Morrissey. Avec les voix d'enfants, réelles ou trafiquées, on n'est pas si loin du Pink Floyd de A brick in the wall.

12. She's my Yoko (A memory is better than nothing, 2010)

I don't want us to be lonely
I want to be with you only

Une des belles chansons d'amour de l'ultime album, également sortie en 45 tours sous le titre You're my Yoko. Je trouve Dan particulièrement poignant quand il chante "That's me, that's Daniel".

13. In a perfumed garden (They could have been bigger than The Beatles, 1982)

Une des excellentes chansons précédemment inédites de They could have been bigger than The Beatles.

14. Paradise is for the blessed (Privilege, 1989)

"Paradise is for the blessed, not for the sex obsessed" est une expression tirée du film If... de 1968. Elle s'est retrouvée, avec d'autres extraits de dialogue du film, au verso de la pochette de And don't the kids just love it, avant que Dan n'en fasse une excellente chanson, placée en ouverture d'un album portant le titre d'un autre film, Privilege.

15. When Emily cries (They could have been bigger than The Beatles, 1982)

Encore une bonne chanson extraite du troisième album. Avec seulement des inédits bien sélectionnés, cette compilation de bric et de broc aurait pu se transformer en un excellent album studio.

16. Things have changed since I was a girl (I was a mod before you was a mod, 1995)

I like to go out in my sister's dresses
Very very proud of my long blond tresses
Do you really think you can understand
What it's like to be stuck in the body of a man

L'une des nombreuses réussites de l'album I was a mod before you as a mod. Comme souvent, le refrain aux allures de comptine est trompeur.

17. You are loved (Are we nearly there yet†?, 2008)

Dan au chant et au piano, avec juste une choriste, pour cette chanson, qui est la seule de l'album Are we nearly there yet†? que je peux écouter de façon répétée.

18. La grande illusion (And don't the kids just love it, 1981)

«a n'a pas été facile de sélectionner seulement deux extraits de And don't the kids just love it. La grande illusion l'a emporté, en partie pour son titre en français emprunté au film de Renoir de 1937.

19. I hope you're happy now (My dark places, 2006)

I hope you're happy now with your new man
I hope he's everything you wanted me to be (...)
It should have been me, it should have been you
But what can you do ?

Un regard poignant au sortir de prison sur une relation passée et les occasions ratées. Une des grandes réussites de l'album du retour.

20. Mummy your not watching me (Mummy your not watching me, 1982)

I'm crying again
Can't remember last time when
A day went by without tears falling
I try my hardest but I always get sent to bed
I don't know why, that's why I'm crying
Mummy you're not watching me
Oh please

Comme pour Look back in anger, Dan s'est clairement inspiré d'une oeuvre de John Osborne, You're not watching me, Mummy, une pièce de théâtre télévisée en janvier 1980, pour le titre de cette chanson et de son deuxième album. Encore une fois, sans en comprendre le détail des paroles, à part le "I'm still crying", j'ai toujours ressenti cette chanson comme profondément triste.

21. Happy all the time (The painted word, 1984)

But I'm just looking for rainbows in a star filled sky
And I'm just waiting for the sun to shine
I remember somebody told me that God is yours and mine
But nobody ever told me that pigs could fly
And I wish that I was happy all of the time in my mind

Là encore, comme dans d'autres chansons du groupe, il est question non pas d'être heureux tout le temps, mais de souhaiter l'être. Ce qui change tout. Cette chanson psychédélique a été remixée pour la compilation Whaam†!! All for art and art for all.

22. Three wishes (Compilation Alive in the Living Room, 1984)

On boucle la boucle avec cette version en concert de Three wishes interrompue par la police le soir où j'ai présenté le groupe au micro.