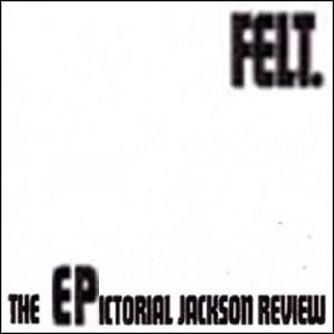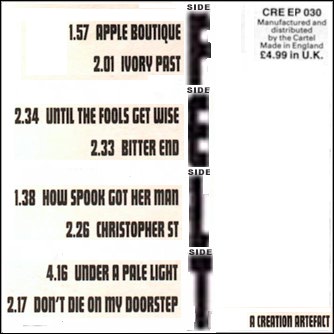 FELT : The EPictorial Jackson Review
collection : "Not available"
ref : cre ep 030 (not available 016)
release date : february 18 2007
format : double 7" 45 rpm EP

Credits :
All titles written and composed by Lawrence and coloured in by the band
Lawrrence ~ vocals, guitars, ace tone electric organ
Marco Thomas ~ lead guitar
Martin Duffy ~ organ, piano, fender rhodes bass piano
Mick Bund ~ bass
Gary Ainge ~ drums
Produced by Joe Foster
Recorded quickly on eight track
EP title by Jack K
EP compiled by JC Brouchard
Cover art : The Shangai Packaging Company, remixed by Pol Dodu
Liner notes by JC Brouchard
"I was going to be a personality
I was going to be so well known
What went wrong I don't know"
("How Spook got her man")

"The pictorial Jackson Review", the penultimate Felt album, was released in Spring 1988, eighteen months before the band split. If the quote above is to be trusted, even if it's taken out of its context, Lawrence already had the feeling his dreams of glory were slipping past him.
All throught its career, Felt had difficulties producing albums according to industtry standard, i.e. works grouping 10 to 14 cuts adding to at least 30 minutes. From six-song mini-lps to five-track 12-inches ("The final resting of the ark"), not forgetting the 16 minutes album ("Let the snakes crindle their heads to death"), this variety makes even more laughable the legend created by Lawrence at the time of the split that they have released 10 singles and 10 albums in 10 years. This legend, reprised in most of the bios since, had a fatal flaw from day one anyway: Lawrence had deliberately put aside "Index", his inaugural 7" single, when he made the tally !
That's surprising, especially as Lawrence seems to appreciate things that are clear and well-ordered. Personally, the "Pictorial Jackson Review" album has always posed a problem for me, because of the complete lack of balance between its two sides (at the time, this lp was designed for vinyl : it was only released on CD siw months later, coupled with the next album). On the first side, there are eight short and excellent songs that fit together perfectly, witth a good guitar/organ balance, halfway between the Dylan of 1965 (unless it is the Dylan of 1974) and the Lou Reed of "Rock'n'roll heart". On the B side are two instrumental tracks, a 12 minute one and a 3 minute one, composed and played solo on piano by Martin Duffy.
I don't need to be convinced of Martin Duffy's talent as a keyboard player, and I have absolutely nothing against him, but in nearly twenty years I must have listened maybe three times to "The pictorial Jackson Review"'s B side, whereas I often draw a lot pf pleasure listening to the eight songs on the A side, particularly my favourite ones, "Until the fools get wise", "Don't die on my doorstep", "Under a pale light", "How Spook got her man" and "Apple boutique".
Thinking about all those 4 songs EPs from the sixties I love, and also those double singles from tthe 80's, such as Julian Cope's "Sunspots EP", I finally struck upon the perfect idea. Yes, Creation had got it completely wrong by releasing the album in this form. The B side could have been saved for an instrumental album instrumental (The CD release of "Train above the city" for instance), and more importantly, the other tracks should have been released as an EP, a double 7" EP to be more precise : 2 records, 2 sides per record, 2 tracks per side. It's not the golden ratio, but it's getting closer !
Thanks to Vivonzeureux! Records, this perfect edition has seen the light of day. "The EPictorial Jackson review", that's its new title, reprises the eight songs of the A side of the album in their original order, the only idiosyncrasy being to have named the sides F, E, L and T. Housed in a gatefold sleeve printed on non-glossy white card, like the original vinyl release, this EP will perfectly safe and will give you musical pleasure for years to come.

JC Brouchard, février 2007.