---
PAULINE EASY :
Haikukulélé
collection : "Not available"
ref : not available 014
release date : august 2 2006

Credits :
Arranged, played, produced and recorded by Pauline Easy in Reims, France, in 2005-2006.
Pauline Easy : Ukulele.
Compiled by Pol Dodu from 123 titles published by Pauline Easy on her blog in 2005-2006.
Cover photograph : Henri Matisse on the front page of Paris Match, n° 294 dated 13 november 1954. Photographer and assistant unknown.

1. Rendez-vous n° 4
Originally by Jean-Michel Jarre in 1986

2. 24 000 baci
Originally by Adriano Celentano in 1961

3. Sunny afternoon
Originally by The Kinks in 1966

4. She's lost control
Originally by Joy Division in 1979

5. Le temps de l'amour
Originally by Françoise Hardy in 1963

6. Le nougat
Originally by Brigitte Fontaine in 1992

7. Alison
Originally by Elvis Costello in 1977

8. Sea song
Originally by Robert Wyatt in 1974

9. A certain kind
Originally by The Soft Machine in 1968

10. Jimmy Jazz
Originally by The Clash in 1979

11. Amoureux solitaires
Originally by Lio in 1980

12. Cherchez le garçon
Originally by Taxi Girl in 1980

13. Ana
Originally by The Pixies in 1990

14. Le courage des oiseaux
Originally by Dominique A in 1992

15. Come on Eileen
Originally by Dexys Midnight Runners & The Emerald Express in 1982

16. Boys don't cry
Originally by The Cure in 1979

17. God only knows
Originally by The Beach Boys in 1966

18. (Sittin' on the) Dock of the bay
Originally by Otis Redding in 1967

19. Señorita
Originally by Christophe in 1974

20. Mala vida
Originally by Mano Negra in 1988

21. Tes yeux noirs
Originally by Indochine in 1985

22. Il voyage en solitaire
Originally by Gérard Manset in 1975

23. The mercy seat
Originally by Nick Cave & The Bad Seeds in 1988

24. Que je t'aime
Originally by Johnny Hallyday in 1969
---
It is thanks to the easy means of communication provided by the blog world that I got intoduced to Pauline Easy's music in the Fall of 2005. Although we're more or less neighbours, I had never heard of this Polynesiean girl exiled in the Champagne region, who had taken to playing on her ukulele the melodies she'd got to hear on her arrival in France. When she started releasing daily on her blog one of her covers of more or less popular tunes, word spread quickly on the Internet, chiefly among Hawaiian music lovers, and Pauline Easy brightened our winter.
But all good things have to stop. Come Spring 2003, the nostalgic Pauline chose to go back to her island, just when Champagne outside temperatures were slowly rising toward tropical levels. The faithful listeners of her blog are left with the 123 enregistrements she released on it. Among these faithful ones are two guys from Reims, Seb Adam andAlio, who also play the ukulele (One can wonder whether Pauline Easy is not the teacher who gave them their first lessons...), and who have decided to keep the memory of Pauline's music alive by playing part of her repertory on stage under the Pauline Easy Project moniker. After an inaugural concert in Reims on may 20 2006, they have played in Paris and in Rouen for the Ukulele Festival de Rouen (the dates of their forthcoming concerts can be found here).
On its Myspace page, the Pauline Easy Project mentions two influences, Joan Sfar (a comics artist mad about the ukulele) and Pascal Comelade (Pascal Comelade, that we are proud to count as one of the artists featured in the Vivonzeureux! Records catalogue). I don't know if Pauline Easy herself is aware of Pascal Comelade's body of work, but her chosen way of expression (short instrumental covers of popular tunes from a variety of styles) can be linked directly to at least two Comelade albums, namely "Danses et chants de Syldavie", a 1993 record subtitled "Apology of individual cover song", which speaks for itself, and "Haikus de pianos", an album originally released in Japan, which is meant to be an apology of the summary and dissection of an instrumental theme, made only with two pianos (a record whose title inspired the one we're talking about today !).
It is on a similar path that Pauline Easy has embarked, armed with just one ukulele that she records twice for every song (one track providing a rythmic bedrock, the other concentrating on reproducing the melody). Her covers have only time for the gist of the musical themes, the poetically summed up versions being very concise : the 24 tracks on "Haikukulélé" last less than a minute in average, ranging from 23 seconds for the shortest ("Le nougat") to 1'39 for the longest ("God only knows").
To obtain a coherent track listing for this album, I've had to eliminate 99 of them. The resulting selection is of course completely subjective, and it reflects mostly the taste and musical history of the compiler, yours truly. I admire particularly Pauline's great musical culture, who for instance did not stop at covering Robert Wyatt's "Sea song", but also dug up "A certain kind" by The Soft Machine (on the band's first album, but I would recommend the version recorded in 1967 for a BBC session. But some songs, which I didn't know or particularly liked, are featured here only because of the of Pauline's interpretation of them. I'm thinking particularly of Jean-Michel Jarre's "Rendez-vous n° 4" , Indochine's "Tes yeux noirs" or "Que je t'aime" by Johnny Hallyday.
This selection from Pauline Easy's blog, which was withdrawn from the internet at her request, will allow us to have a cool quiet summer. What can always dream and imagine that Pauline will decide to come back next winter to keep us warm with her ukulele...
Pol Dodu, august 1 2006.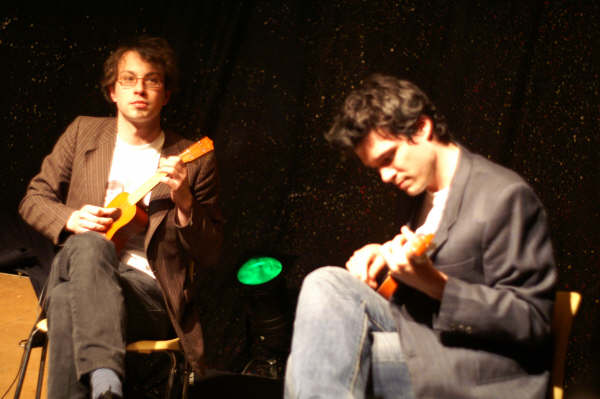 The Pauline Easy Project (Seb Adam and Alio) in Reims, M.J.C. Le Flambeau, during their first eve concert on may 20 2006.