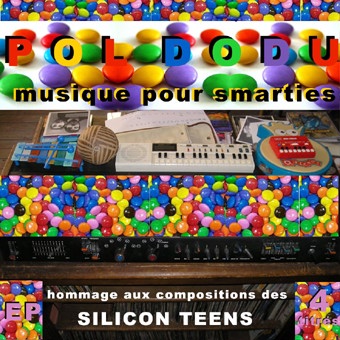 POL DODU : Musique pour Smarties, a tribute to the songs composed by Silicon Teens
collection : "Not available"
ref : not available 017
release date : april 30 2007
format : 4 track CD EP

Credits :
All titles written and composed by Silicon Teens and Larry Least
Pol Dodu : Voice and instruments

Instruments featured :
Korg 700 S synthesizer, bought secondhand for £ 5 at a jumble sale in Mancy at the end of the 1990s. Originally sold in the 1970s by Top Musique in Tinqueux
Casio VL-Tone VL-1 synthesizer, bought new in the early 1980s
Altic mini-organ, a present from Paulette Dodu
Quickos tambourine, supplied with a child menu in a Quick fast food restaurant. A present from Paulette Dodu
Toy glockenspiel, borrowed from Paulette Dodu
Maraca wood-engraved with "Guadeloupe"

Produced by Pol Dodu
Recorded in Mareuil-sur-Ay in april 2007
Cover art : Pol Dodu
Liner notes : Pol Dodu
Dedicated to Missing Scientists, Frank Tovey, Daniel Miller, Bernard S. of The (Hypothetical) Prophets and Le Vieux Thorax
1. T.V. playtime
Lyrics and music : Silcon Teens
First released on : "Music for parties" (album, 1980)
2. Chip'n'roll
Music : Larry Least
First released on : "Music for parties" (album, 1980)
3. Destination soleil (Sun flight)
Lyrics and music : Silcon Teens ; French lyrics : Pol Dodu
First released on : "Memphis, Tennessee" (single, 1979)
4. State of shock (Part two)
Music : Silcon Teens / Larry Least
First released on : "Music for parties" (album, 1980)
Silicon Teens are a British synth band who released their sole album, "Music for parties", in 1980, along with three singles, among which only one featured an otherwise unreleased B side. All this adds up to to a total output of 15 songs.
But what was presented as a quartet made up of Darryl, Jacki, Paul and Diane, was actually a project of Daniel Miller, Mute Records founder, who had previously released a ground-breaking single as The Normal and a collaborative album with Robert Rental.
The guiding line for "Music for parties" is simple : take pop and rock hits from the sixties, and update them with the "modern" new wave electronic sound of 1979-1980. Many others did it at the time, often on isolated tracks (The Flying Lizards for instance), but Silicon Teens were the first to do it over a whole album ( The Flying Lizards' "Top Ten" came out in 1984 and The Moog Cookbook were probably in primary school in 1980).
So, "Music for parties" has always been portrayed as an album of sixties techno-pop covers, but this portrayal is not quite faithful. Indeed, four of Silicon Teens's tracks are original compositions, two of which are sung, and these tracks are of a very high quality : had they been released outside of the context of covers of "Music for parties", they would probably have been highly rated.
It is to these original songs by Silicon Teens that I have decided to pay tribute with "Musique pour Smarties", hoping to generate some interest for them.
Originally, I am not a musician at all, but I have piled up a number of instruments over the years, including a Korg 700S synthesizer, the same model as used by Daniel Miller to record his single as The Normal in 1978. This Spring, after having listened a lot to "Music for parties", after having watched a lot the "Memphis, Tennessee" video, starring Frank Tovey of Fad Gadget, and after, a sign of destiny, havin found on a jumble sale one of the rare copies of the French pressing of this same "Memphis, Tennessee", with "Chip 'n' roll" on the B side, I armed myself with my instruments and I recorded in a few days these covers of the four original songs by Silicon Teens.
"T.V. playtime", is the song I've listened to most since 1980, and I've even used it as the soundtrack for "Il suffira d'un cygne", a family short movie made over Christmas holidays in 2002. The song has a jaunty rhythm, like the one of kids walking back home after school and seating down to watch TV. It is more or less what the lyrics are about, but I can't make them all out. This song is a bit like a lighter and merrier version of "T.V.O.D.", with and explicit reference to the title of the A side of the The Normal single by the backing vocals. The "La la lalalala la la" I sang here took me back twenty years ago, when I covered "Yellow ball" by The Revolving Paint Dream in French under the title "La bulle jaune".
"Chip 'n' roll" is an instrumental that references most of rock'n'roll's cliches. Of the four, this is the one that is the closest to the covers played by Silicon Teens. It is a succes, an electronic jerk worthy of Pierre Henry, and I tried to play it in the style of the Robots-Music.
"Destination soleil" ("Sun flight") is a new wave song with a space theme. It can be likened to two later Belgian releases, the Polyphonic Size of the first album and The Honeymoon Killers of' "Ariane". I translated the lyrics into French, but I didn't manage to sing them with a Belgian accent !
"State of shock (part 2)" is the track that reminds me most of Kraftwerk, one of the best offspring of the German band, The Human League Mark One in its instrumental endeavours such as "Dancevision" or "The dignity of labour". The main melody is played on the mini-organ and is punctuated by the glockenspiel.
I hope these amateur interprétations won't disappoint you, and more importantly, I hope they will make you want to discover or rediscover the original versions by Silicon Teens, available on the CD reissue of the "Music for parties" album on Mute.
Pol Dodu, april 2007.