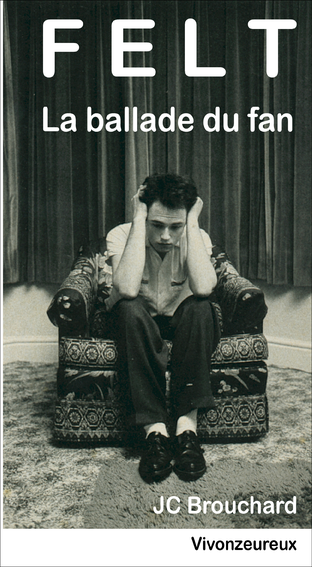 La ballade du fan
Illustration de couverture : Photo de Daniel Laine,
publiée dans le magazine Actuel en mai 1984
Une publication Vivonzeureux!
© 2011 JC Brouchard
Tous droits réservés
119 pages
ISBN : 978-2-9536575-2-4

Télécharger gratuitement le livre numérique (pdf)
Acheter le livre imprimé sur TheBookEdition.com
This book is available in English as Ballad of the fan.
Felt, le groupe anglais fondé par Lawrence à Birmingham, a sorti plus de vingt disques dans les années 80.
La ballade du fan revisite la discographie de Felt et raconte aussi l'histoire de l'un de leurs fans français, JC Brouchard, qui fut un temps le conseiller spirituel d'Alan McGee, fondateur du label Creation.
Felt : Primitive painters (1985). Une vidéo tournée en 1987, prétendument pour
la sortie brésilienne de l'album Ignite the seven cannons.
Lawrence est accompagné par Phil King, qui a joué avec Felt en 1987
mais n'a pas participé à l'enregistrement de ce titre.

SOMMAIRE
PREFACE, par Alan McGee
L'OPTIMISTE ET LE POETE
PILLOWS & PRAYERS (CHERRY RED 1982-1983)
PENELOPE TREE
THE SPLENDOUR OF FEAR
IGNITE THE SEVEN CANNONS
BALLAD OF THE BAND
LET THE SNAKES CRINKLE THEIR HEADS TO DEATH
POEM OF THE RIVER
FOREVER BREATHES THE LONELY WORD
RAIN OF CRYSTAL SPIRES
A DECLARATION
THE EPICTORIAL JACKSON REVIEW
SPACE BLUES
ME AND A MONKEY ON THE MOON
SUPERMARKET
DENIM : MIDDLE OF THE ROAD
GO-KART MOZART : TEARING UP THE ALBUM CHART
FELT : COMPILATION
BUBBLEGUM PERFUME
FELT : POP SVELTE ET FELEE, par Lydie Barbarian
DISCOGRAPHIE
UNTIL THE FOOLS GET WISE