---

LEWIS FUREY
BOOK
ARTICLES
REFERENCES : Discographie, Filmographie, etc
LEWIS FUREY IN CONCERT IN PARIS IN 2010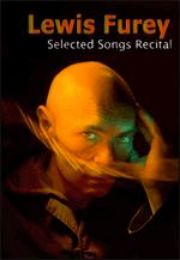 After Montreal in 2008 and Tokyo in 2009, Lewis Furey now announces on his site some dates in Paris, from February 4 to 7 2010 at l'Europén. This should give Europeans an opportunity to catch his "Selected songs" recital.
Tickets are now on sale. More info on L'Européen's web site, including the press kit.
If the news of these concerts was not enough to satisfy Lewis Furey's fans, they can all the more rejoice with the announcement contained in the press kit of the reissue early in 2010 of "Lewis Furey" and "The humours of...", as well as the release of a "Selected songs" compilation with the first recorded versions of the songs of the recital, and also the publication of a songbook !

LEWIS FUREY LIVE ON STAGE IN 2008 !
Thirty years after his last club concerts, Lewis Furey performed once again live under his sole name on July 3 and 4 2008 as part of the Festival International de Jazz de Montreal. He wa backed on this occasion by three musicians, his daughter Clara Furey, Karine Deschamps and Alcibiade Minel.
Here's an extract from one of these concerts in Montreal :

If one of the comments to this video is to be believed, new shows would be lined up for March 2009 in Tokyo. One will watch closely the news posted on Lewis Furey's official website , crossing one's fingers hoping that Lewis Furey will soon perform in France with this live set-up !
---
REFERENCES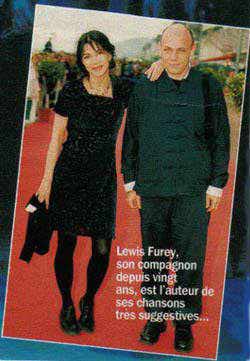 Lewis Furey's official site : www.lewisfurey.com
Discography
Albums
LEWIS FUREY : "Lewis Furey", A & M, 1975 , CD reissue LFP, 2010
LEWIS FUREY : "The humours of Lewis Furey", A & M, 1976, CD reissue LFP, 2010
LEWIS FUREY : "The sky is falling", RCA / Saravah, 1979
CAROLE LAURE : "Alibis", RCA / Saravah, 1979
LEWIS FUREY, JEAN-DANIEL MERCIER & CAROLE LAURE : "Au revoir... à lundi", RCA / Saravah, 1979 (bande originale du film)
LEWIS FUREY & CAROLE LAURE : "Fantastica", RCA / Saravah, 1980 (bande originale du film)
LEWIS FUREY & CAROLE LAURE : "Enregistrement public au Théâtre de la Porte Saint-Martin", RCA / Saravah, 1982
LEWIS FUREY : "Maria Chapdelaine", Kébec / RCA, 1983 (bande originale du film)
LEWIS FUREY & CAROLE LAURE : "Night magic", RCA / Saravah, 1985 (bande originale du film)
LEWIS FUREY : "Poetic young man : Rare and unreleased tracks, 1972-2008", Vivonzeureux! (virtual label), 2009
LEWIS FUREY : "Selected songs", LFP, 2010 (original recordings, compilation including some previously unreleased live tracks)
Singles
LEWIS FUREY : "Lewis is crazy" / "What a sad summer", Gamma, 1972 (Canada)

LEWIS FUREY : "Hustler's tango" / "Last night", A & M, 1975 (USA promo)
LEWIS FUREY : "Lullaby" / "Lullaby", A & M, 1976 (USA promo)
LEWIS FUREY : "Top ten sexes" / "Top ten sexes", A & M, 1976 (USA promo)
LEWIS FUREY : "Waiting on you" / "Pretty baby", RCA / Saravah, 1979 (France)
LES PETITES FILLES : "Sauverais-tu ma vie ?" / "Sauverais-tu ma vie ?" (version instrumentale), RCA / Saravah, 1979 (France)
LEWIS FUREY & CAROLE LAURE : "See you monday", RCA / Saravah, 1979 (original soundtrack from "Au revoir... à lundi) (France)
LEWIS FUREY & CAROLE LAURE : "Fantastica" / "What's wrong with me", RCA / Saravah, 1980 (original soundtrack from "Fantastica") (France)
LEWIS FUREY & CAROLE LAURE : "I should have known better" / "Slowly, I married her", RCA / Saravah, 1982 (France)
LEWIS FUREY & CAROLE LAURE : "Fire" / "Angel eyes", RCA / Saravah, 1985 (original soundtrack from "Night Magic) (France)
Appearances on other artists' records
Violin on the album "New skin for the old ceremony" by Leonard Cohen (CBS, 1974)
Voice on the song "Fame a la mode", from the album "Michel Polnareff" by Michel Polnareff (Atlantic, 1975), also released as a single in France
Backing vocals on the album "Numbers by Cat Stevens (1975)
Poetry
Some poems were published by After Dark Magazine, in march 1972, november 1974 and in 1975, among which "Sugar's suicidal trance" et "Rusty's swan song"
"Some Faustus material", by Lewis Furey, linocuts by Josette Trépanier : 11 page portfolio, limited edition of 45 copies, published in Montreal in 1975 by P. Guillaume.
"Some porno romantic material", published in France in 1978 in issue 11 of Atem magazine
Lewis Furey covered by others
Lewis Furey has written many songs for others. As for himself, to my knowledge, he has only covered one song ("Ordinaire" by Robert Charlebois, in english under the title "Ordinary guy" on "The sky is falling"). His own songs, still to my knowledge, have rarely been covered y others.
Here are the three instances I am aware of :