---

(jump to an attempt at a Family Fodder discography, or to the tracklisting of the (hypothetical) volume 2 of the best of Family Fodder)

You know how it's like : reissues, rediscoveries, so-called budget collections, artistical renaissances come and go, and still there are a few bands left out whose past productions are forever out of print (which somewhat masochistically makes the day of the true hardcore record collectors).
Some time after I had listed my new wave classics, I was trying to pinpoint those that have passed through the net of the CD rereleases. As the years go by, the holes in the net have become smaller and smaller : there are more or less easy to find CDs by Basement 5, Young Marble Giants, Au-Pairs or Gang of Four. But it's practically impossible for the ordinary Joe to get the first Passions album, the one album by Cowboys International, The Sound's "Jeopardy" or the first self-titled Flying Lizards album.
One of the most blatant omissions in this list was Family Fodder's "Greatest hits", an ironically titled compilation by this British band, released in 1981 by Belgian label Crammed.
I had spoken about it with Dominique Diebold, from the AYAA label and the Look de Bouk band, who knows family mainman Alig well, as he's had him play in Reims several times over the years with his different bands (Lo Yo Yo, Johnny Human Ingredients, Officer!,...). Full of a-propos, Dominique had simply advised me to get in touch with Alig and offer him... to release by myself a selection of the best Family Fodder songs !
Not such a bad idea, but I guess I did not feel adventurous enough financially to embark on this enterprise. At the time, I simply went to check Crammed's reissue program on their web site and suggested them to think about reissuing the Honeymoon Killers albums (with extra tracks) and the one by Family Fodder. Although I knew they probably only ever had a limited license by the original British label, Fresh, to release the compilation in the first place.
Well, the good news is that, at the end of last year, US micro-label Dark Beloved Cloud picked up the challenge and released a CD, "Savoir faire : the best of Family Fodder", in connection with Jungle Records,the British label which obviously took up the Fresh catalogue when the label went down in the 80's.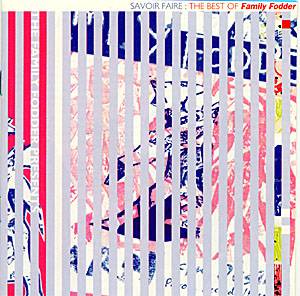 I seem to remember that, once again, it's thanks to Dorian Feller that I discovered Family Fodder around 1981/82. I had borrowed "A Fresh selection" from him, a label catalogue compilation on which you can find a Barrett cover by The Igloos, a version of "All day and all of the night" by erstwhile Deep Purple guitarist Bernie Tormé (!?!), and a very good version of the "Hawaii five-o" theme tune by The Dark, or even Wilko Johnson having another go at his own "Back in the night".
But there were not only covers on this record ! There were a good few duff tracks, including one by UK Decay, and the best original, by far, was "Savoir faire" by Family Fodder, a 2'30 pop new-wave jewel which should by right be included in every best singles list of the period, and which concentrates most of the qualities of the band : the sound is inventive but also very accessible, with great innovators like This Heat! (2/3 of the band are on "Savoir faire") and The Work (Rick Wilson and Mick Hobbs recorded many tracks with the band), it is as original as the Flying Lizards singles although it didn't sell as well (but David Cunningham, who released the first This Heat! album on his Piano Records label, is credited as executive producer of "Savoir faire", which means probably that he contributed to the financing of the recording), and - as for Flying Lizards' "Tube" - there are lyrics in French, and a French accent for the English lyrics, on this single by a British band because, as is the case with Stereolab in the 1990's, Family Fodder had a French woman singer, Dominique Levillain, for the whole first part of their career. It is probably because of this common feature that it has been said that Family Fodder has more or less inspired Stereolab, although this doesn't seem completely incongruous, especially if one thinks of the pop song side to Stereolab's music.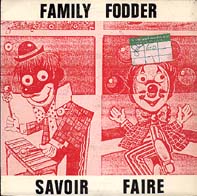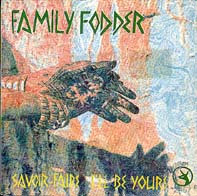 In any case, "Savoir faire" was never the hit it should have been, not even its second release by then young Belgian label Crammed Records.
It is actually thanks to Crammed that, in France in 1981, we got the chance to get acquainted with most of the Family Fodder singles, as they released the cleverly titled "Greatest hits" compilation, which included most of the singles released by fresh : the first one, "Playing golf (with my flesh crawling)", the "Debbie Harry" tribute, other singles tracks ("Film music", "Warm"), a few unreleased tracks and three good extracts from the band's first album,"Monkey banana kitchen".
This album, I also borrowed from Dorian Feller at the time, but I was not convinced by it. "Savoir faire" was on it, but I though the other tracks had not enough hooks and were a bit too experimental for my taste. Of course it was a mistake : I've just bought this record which is now almost twenty years old and which has aged very well, thanks especially to its style of new wave with a deep reggae bass which at the time made the artistic fortune of PIL and a few others.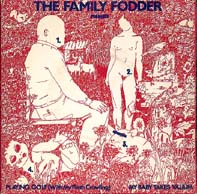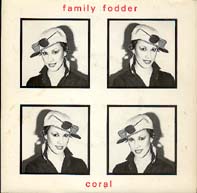 On the contrary, I had been impressed enough by "Playing golf" - a delirious song musically and lyrically : the chorus goes something like "I want to be dead and with you watch the television every Monday" ! - to use the video control room of the college I was attending at the time to produce all by myself a video for this song, in U-Matic format and in black and white. I directed it, I don't dare to say that I acted (you can hear some sort of snoring at the beginning of the song so I filmed myself pretending to sleep...), and I played around with the silliest of special effects like any first-timer would. I think I never finished this clip, and anyway, the cassette must have been disposed of when they switched to colour video. I didn't keep a copy of it, but it can't be a great loss for he history of music videos !
Later, on my trips to England, I was able to procure myself most of the Family Fodder output in the bargain bins of Record and Tape Exchange : the original singles taht were on "Greatest hits", but with their B-sides this time (including the very good "Desire", "I'll be yours", "Debbie Harry version" and "My baby takes valium"), but also the 12" released under the Frank Sumatra moniker and the two 12" / mini-albums "Sunday girls" and "Schizophrenia party".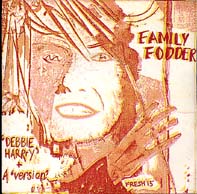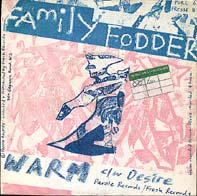 "Sunday girls", released in 1979, contains the earliest recordings of the band (some go back to 1975), and especially two excellent versions of the Blondie hit ("Sunday girl" of course) recorded before the tribute single "Debbie Harry", and a Syd Barrett cover, "No man's land". So, with maybe the exception of "Kisses", it is the covers that I prefer on this record.
As for "Monkey banana kitchen", I was not enthused by "Schizophrenia party", released in 1981 after Dominique Levillain left the band, replaced by Lynn Alice, even though now I like "Silence" a lot and "Better lies" a little.
Later, in 1982, there was the "The big dig" single, which I only got to know much later. It is a more or less reggaefied version of an Erik Satie composition (the band had already tackled Schubert beforehand), with an excellent B-side, "Plant life". Then it seems that Fresh Records stopped, and Family Fodder found itself on Jungle Records with a single ("Coral", 1982), and even a double album, "All styles", in 1983, a record on which every song is meant to represent a particular musical style (progressive, folk, classic,...) with a new sound (cleaner, with more synths), and Michel Legrand and Kurt Weill covers.
I never caught Family Fodder live, but I saw The Lo Yo Yo in London, at the Hope and Anchor, in 1984. Unfortunately, I have few memories of this performance by Alig's new band, but I remember quite clearly that I had loved the music played on the PA before the band went on : that's how I discovered "Swordfishtrombones" by Tom Waits !
Later, I saw Alig live again at least once in Reims, either with The Lo Yo Yo, Officer! or Johnny Human Ingredients, some of the many bands with which he's played.
And, to prove that not all godd Family Fodder can fit on a single CD, here's below what could make up volume 2 of the Family Fodder best-of...

Pol Dodu, 1999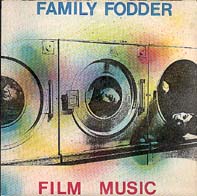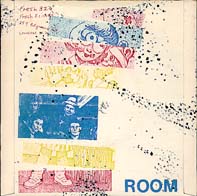 PS (2001) : Following the release of the best-of on Dark Beloved Cloud, Alig and Dominique got together and recorded a brand new album, "Water shed", released in 2000, still on Dark Beloved Cloud (I haven't had the opportunity to listen to it yet...)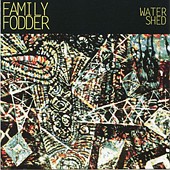 PS (2007) : Alig Fodder has his own page on Myspace. On Blogonzeureux!, you can red a review (in French) of "Greatest hits", the album released on Crammed. A new 42 track double-CD compilation was issued by Jungle in Spring 2008.
PS (2013) : Family Fodder's official site is at http://familyfodder.co.uk
PS (2014) : Several Family Fodder compilations were released these last few years, but the Staubgold label, based in Perpignan, now launches two reissues of first period Family Fodder, the Monkey Banana Kitchen album from 1980 and the maxi-single/mini-album Schizophrenia Party from 1981 (which includes the 9 minutes Dinosaur Sex mastodont), with the added bonus of the Film Music and The Big Dig singles. Both records are out on vinyl, and there's also a CD coupling both releases.
---
You can buy the "More great hits" CD and many vintage Family Fodder vinyl records from Jungle Records.
You can get free records by visiting the Dark beloved cloud label website(http://www.darkbelovedcloud.com/).
The band's releases since 2010 are available through The State51 Conspiracy.
---

Family Fodder : an attempt at a discography


Playing golf (with my flesh crawling)/My baby takes valium single, Parole/Fresh, 1979
Te deum maxi, Small Wonder, 1979 (released under the Frank Sumatra moniker)
Warm / Desire single, Parole/Fresh, 1980
Sunday girls maxi, Parole/Fresh, 1980
Debbie Harry / A 'version' single, Fresh, 1980
Savoir faire / Carnal knowledge single, Fresh, 1980
Monkey banana kitchen album, Fresh, 1980 (reissue Staubgold, 2014)
Savoir faire / I'll be yours 45t, Crammed, 1980
Film music / Room 45t, Fresh, 1981
Greatest hits album, Crammed, 1981
Schizophrenia party maxi, Fresh, 1981 (reissue Staubgold, 2014)
The big dig / Plant life single, Fresh, 1982
Coral / Frustration single, Jungle, 1982
All styles album, Jungle, 1983
Is there la merdre after the death ? on the "Ubu et la merdre" compilation, In-poly-sons, 1988 (reissue pending)
Savoir faire : the best of Family Fodder album, Dark beloved cloud, 1998
Watershed album, Dark beloved cloud, 2000
Tender words CD single, Dark beloved cloud, 2002
Alphabet series Q : Infamy / Death and the maiden, Tomlab, 2007 (as Alig Fodder)
More great hits, album, Jungle, 2008
Bäbytalk, album, Slender Means Society, 2008 (as Idol Fodder)
Classical music, album, The State51 Conspiracy, 2010
Ancestor's feet / Backstreets of infinity (Demo) / Ancestor's feet (radio edit), single, The State51 Conspiracy, 2010
Singularity 1 : Love is like a goat / Whatever Happened to David Ze (Wide World Remix) / Dance With Integrity, single, The State51 Conspiracy, 2010
Singularity 2 : Sitting In A Puddle / Don't Get Me High (Human Remix) / When Women Were Drummers, single, The State51 Conspiracy, 2010
Singularity 3 : Hippy Bus to Spain / Strangest Games (Glastonbury mix by Dupont) / Not Enough Indians, single, The State51 Conspiracy, 2011
Singularity 4 : The pain won't go / The Onliest Things / Love Anew, single, The State51 Conspiracy, 2011
Singularity 5 : Why were you wearing the moon ? / Primeval Pony / Very very nice, single, The State51 Conspiracy, 2011
Singularity 6 : The Moon Told Me So / Dub and the Maiden / The Story So Far, single, The State51 Conspiracy, 2011
Game away : Déjà Déjà Vu / Vampyre on my brain, single, The State51 Conspiracy, 2012
Variety, album, The State51 Conspiracy, 2013
It's 1965 / Savoir Faire (Socktoucher Mix), single, The State51 Conspiracy, 2013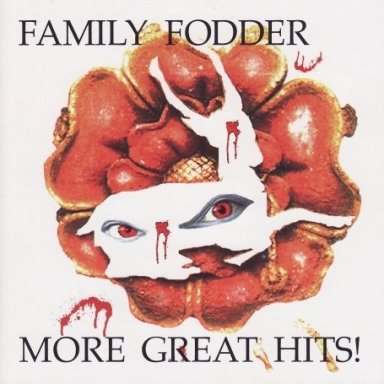 Some of the most regular members :
Alig, Dominique Levillain, Felix Fiedorowicz, Martin Frederix, Bazz Smith, Ian Hill, Graham Painting, Mark Doffmann.
I'm asking myself questions about Ian Hill : in the Sound Projector interview in 1994, Alig explains how he made the artwork for "Monkey banana kitchen", but Ian Hill is credited for it in the liner notes... elsewhere in this interview, Alig says that he played accordian on a Linton Kwesi Johnson record. So I ran to fetch my copy of "Tings an' times", which contains "Di good life", the best song on the record, dominated by a superb accordian part. And sure enough, there is a member of Family Fodder on this record, but it is Ian Hill ! Sp I get to wonder whether or not Alig and Ian Hill are the same person...
Nombreuses participations de Charles Bullen et Charles Hayward (This heat), Mick Hobbs et Rick Wilson (The Work), Judy Carter,...
Some Family Fodder related stuff :
Hermine
Torture 4 track single, Human, 1981, 2 of the 4 titles are produced by Alig and other members of Family Fodder and This heat, who play on it; one of these 2 songs is by Alig; the 2 tracks on side A are produced by David Cunningham, and People in control play on them
People in control
When it's war maxi, Crammed, 1982, with Martin Frederix and Ian Hill
Des airs
Lunga notte maxi, Crammed, 1982, one side produced by Alig
Les tueurs de la lune de miel/The honeymoon killers
Subtitled remix maxi, Crammed, 1983, english subtitles and dubbing by Alig and Mick Hobbs
Sonoko
Souvenir de la mer on La débutante, album, Crammed, 1987, keyboards and arrangements by Alig
Officer!
Officer! cassette, AYAA, 1980(s
Ossification album, AYAA, 1980's
Yes yes no no yes no yes album, 1980's, The Work's Mick Hobbs' band, with Felix Fiedorowicz nearly all of the time, and Alig on one song at least
The Lo yo yo
Extra weapons album, Floppy discs, 1985
Johnny Human
at least two albums on Alligator discs including Foreverandever (1996)
Oedipus
at least one single as part of Dark Beloved Cloud's Singles Club, and one self-titled album on InPolysons
For more information :
http://familyfodder.co.uk
Media Fodder's secret life
http://www.myspace.com/aligfodder
http://www.darkbelovedcloud.com
http://www.darkbelovedcloud.com/fodder.htm (to download mp3s of a few songs of the new album, "Water shed")
http://www.jungle-records.demon.co.uk/jungle/freudcd062.htm
http://ecoutenmouvement.free.fr/ (Dominique Levillain's site)
http://www.newwavephotos.com/FamilyFodder.htm (Family Fodder pictures taken by Belgian photographer Philippe Carly)
http://www.supergraphics.demon.co.uk/soundprojector/exc_familyfodder.html (interview with Alig in 1994 for the Sound Projector magazine)
http://www.yaleherald.com/archive/xxvii/1999.04.02/ae/p13savoir.html
http://www.trouserpress.com/bandpages/FAMILY_FODDER.html
---
"Laissez-faire : the (hypothetical) best of Family Fodder, volume 2"

(tracks more or less in chronological order of release)
| | |
| --- | --- |
| My baby takes valium | "Playing golf (with my flesh crawling)" B side, single, 1979, Parole/Fresh |
| Desire | "Warm" B side, single, 1980, Parole/Fresh |
| Sunday girl # 2 (de Blondie) | from "Sunday girls", maxi,1980, Parole/Fresh |
| No man's land (de Syd Barrett) | from "Sunday girls", maxi,1980, Parole/Fresh |
| Street credibility | from "Sunday girls", maxi,1980, Parole/Fresh |
| A 'version' | "Debbie Harry" B side, single,1980, Fresh |
| Love song | from "Monkey banana kitchen", album, 1980, Fresh |
| Symbols | from "Monkey banana kitchen", album, 1980, Fresh |
| Bass adds bass | from "Monkey banana kitchen", album, 1980, Fresh |
| Philosophy | from "Monkey banana kitchen", album, 1980, Fresh |
| I'll be yours | "Savoir faire" B side, single,1981, Crammed |
| No fear, no sorrow | from "Greatest hits", album, 1981, Crammed |
| Plant life | "The Big dig" B side, single,1982, Fresh |
| Coral | single, 1982, Jungle |
| Winter song | from "All styles", album,1983, Jungle |