GELB/BURNS/CONVERTINO :
TOO MUCH TALENT CAN'T BE A BAD THING !

To this day, I have had the chance to see Giant Sand live three times, Calexico three times too, Howe Gelb and OP8 (without Howe) one time each.
In Spring 2000 the three Giant Sand members must have given a headache to their respective booking agents for their visit to Europe. I had made a recap of all the concerts listed for this fanzine, and it was nearly delirious : one week Giant Sand, then Calexico at one end of Europe and Howe playing solo at the other end, before they get back together again for a few days and go their separate ways again...
But more importantly, while I was watching Giant Sand play in Holland, I couldn't help feeling a little uneasy. As it's always been the case since 1985, Howe Gelb is and remains the undisputed Giant Sand leader. The band plays only his songs, and feeds from Howe's creative fever who, on stage like often in the studio, follows his bursts of inspiration powered by wlkman cassetes, pedal samples or guitar riffs.
But since 1997, water has gone by under the bridges. After having collaborated as a rhythm section with many indie-rock US artists, Joey and John have started writing their own songs, first for Friends of Dean Martinez, then for Spoke and Calexico. They've now released three albums, Joey has gained assurance as a singer and guitarist, and especially, Calexico has its own career, which,in Europe at least, has for now and ironically a higher profile than Giant Sand, both saleswise and in the media.
Hence this unease that I felt several times, seeing Joey spend a whole concert as a talented bass player and occasional back-up singer, knowing that the next day he would be center stage playing his own songs, while Howe would be in another town for a solo gig, in a smaller venue with his guitar, his piano and his walkman.
We know, from the many interviews Howe gave when "Chore of enchantment" was released, that Giant Sand went through a difficult period after Rainer's death in 1997 (creative breakdown, estrangement of the band due to the growth of Calexico, label problems which delayed the release of a new record...), and, as Howe said to Les Inrockuptibles, Giant Sand is at a crossroads : "Right now, I am trying to figure out whether I still play in a band, or just with musicians".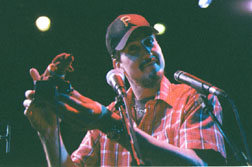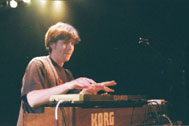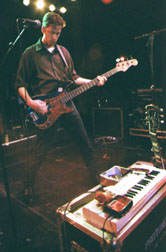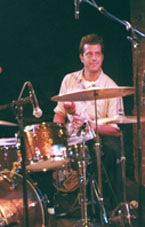 GIANT SAND live in Paris, La Maroquinerie, May 3rd 2000. Photos © Cathimini
Of course, we would prefer Giant Sand to remain a great band ! And it's no coincidence if, after a career spanning more than fifteen years, the basic Giant Sand trio of Gelb/Burns/Convertino has been lasting for nearly ten years now. Talented musicians are aplenty, but it probably wouldn't be easy to match this effective well-balanced line-up ! So, one can only hope that the three comrades will find the magic formula that will enable them to fully express themselves, while creating together as Giant Sand. The fact that the band has started touring again regularly since October 1999 is rather a good sign !
The OP8 experience with the album "Slush" and the european tour that followed has somehow showed one possible way (shared writing duties, several singers,...), and Rainer's death probably interrupted an interesting process, the best instance being maybe "Never see it coming", the instrumental version of which by Calexico on "The black light" is interesting, but the song is sublimed by Howe's lyrics and vocals on "Slush".
That's why I regret that the OP8 concert I had the chance to see in Reims in october 1997 was a concert without Howe : I might have been able to figure out how a live band in which Howe, Joey and Lisa Germano take turns in singing might sound.
I was not in New-York for that night when Howe Gelb and Calexico found themselves playing gigs in the same city on the same night and got together at one point on stage : was it a Giant Sand concert, or Calexico+Howe Gelb or something else altogether ?
For it's probably here that one of the magical formulas lies, for the live outings anyway, as the studio recordings do not cause this kind of questioning.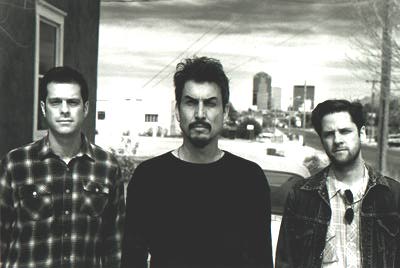 On October 20th 2000, I should be lucky enough to attend the first Giant Sand concert in Reims, France, as part of the Octob'rock festival. It costs nothing to ask, so here's the perfect billing of the concert I'd like to enjoy that night : Howe Gelb opens the night with a 45 min solo concert, then an hour set by Calexico (no problem if they perform as a duo, without mariachis nor bass nor trumpets : the more it goes, and the more "Spoke" gets to be my favourite Calexico album. By the way, "Service and repair", the next Calexico single might be part 2 of the "Spokes" song on "Spoke"), then obviously a two hour set by Giant Sand !
This programme might not be the panacea, but I'm sure that one day or another a festival organizer or the respective booking agents of Giant Sand, Howe Gelb and Calexico will have the good idea to propose this billing, which will save me from traveling Europe from one end to antoher to see the three acts separately !
But I must not become too demanding as regards dream concert billings : if Jonathan Richman and Giant Sand, as far as I know, have not yet recorded together, as I dreamt it, the organizer of the October 23rd concert in Nantes, France, has had the excellent idea to put both Giant Sand and Jonathan Richman on the same bill. In the end, even if Gelb, Burns and Convertino come to Reims and play my dream programme, you can still bet that I will have to travel a little to see some concerts this autumn !