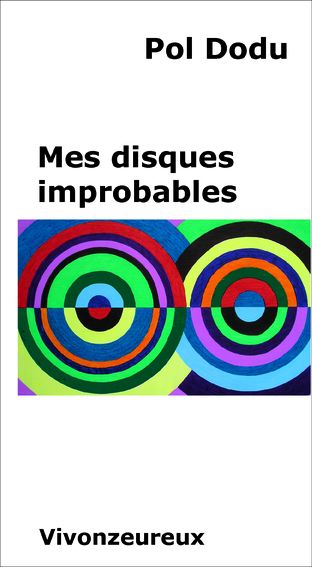 Wednesday at the Kiosk, a meeting in music about Mes disques improbables with rock in Reims as a common thread.
Wednesday, December 8th at 6.30 pm at La Cartonnerie in Reims.
A list of the records that might be talked about on the day.
After four and a half years and 650 records reviewed on Blogonzeureux!, the time has come to collect some of these reviews in a printed volume.
The criterion for this selection was the improbable aspect of the records concerned.
The inventivity of the artists and their labels is always surprising, from the record relased under an alias to the "not for sale" promo, from the collector to the one nobody wants, from the online record to the one that doesn't exist.
Jeff Beck covering Paul Mauriat, Raymond Devos playing the cowboy, Devo regenerating in a 2.0 version thirty years after the fact, a joke 12inch released only as a birthday present for Ian Dury, a trumpet that does gloo-gloo, Kraftwerk's producer raging against Christmas, the dance versions of Father Duval's songs...
Here's a rough idea of what's to be found inMes disques improbables.
Mes disques improbables
Text (in French) : Pol Dodu
Cover drawing : Fabienne Mazay
A Vivonzeureux! publication ­ © 2010 Pol Dodu­ All rights reserved
202 pages
On sale on TheBookEdition.com

TRACK LIST
LA GUITARE EN 10 LEÇONS
THE JUSTIFIED ANCIENTS OF MU MU : 1987 (What the fuck is going on ?)
LEWIS FUREY : Lewis is crazy
PASCAL COMELADE : Compassió pel dimoni
ANDICE RUPEN & HOWE GELB : Le work-in-progress EP
JONATHAN RICHMAN : You can have a cell phone that's OK but not me
TOM LUCY : Paris, France
PHAROAH SANDERS : Japan
BRIGITTE FONTAINE - ARESKI BELKACEM : Les églantines sont peut-être formidables
HIGELIN : Remember
LES PINSONS : La vieille truie
MONSIEUR DUPONT ET SES SOLISTES CAMPAGNARDS : La polka des démobilisés
AIMABLE : Aimable joue Françoise Hardy
MARIO BUA ET SON ORCHESTRE TYPIQUE : Les derniers succès du Père Duval pour la danse
LES ROBOTS-MUSIC : Ils jouent des succès de Kraftwerk
SUPERMARKET : Supermarket
LA VARIETE : Je déteste la variété
BAGAD FEMININ NOMINOE (REDON) : Folklore breton
LES MAXEL'S : Désordre musical
MAX ROMEO : One step forward
CHHUN-VANNA & IM-SONG-SOEUM : Quand tu me comprendras
P'TIT FRERE : Anita
FERNAND SARDOU : Aujourd'hui peut-être...
AAMOK vous souhaite un joyeux Noël
RON CAPONE AND HIS ORCHESTRA : Gloo gloo water trumpet
MARCEL BIANCHI : Sa guitare et son grand orchestre
PRO CROMAGNUM (SAPIENS) : A whiter shade of pale
FORMIDABLE RHYTHM AND BLUES - MINI PARTY SPECIAL DISCOTHEQUE USA SELECTION EXTRA FOR YOU
THE BLACK INSPIRATION : Rythm and blues show
JIMMY accompagné par LES KINGBEES : Comme un fou
BIG TEARS AND THE CROCODILE : Sea side shuffle
GERARD SAINT PAUL : 10 hits de Lennon & McCartney
STUDIO 99 : Punk!
PATRICK DUVET AND HIS SWEET PERVERSIONS : Le sex, les dragues et le rock'n'roll
TELEPHONE, STARSHOOTER : French rock
JEFF BECK : Love is blue (L'amour est bleu)
MICKEY BAKER : Adagio d'Albinoni
J.S. BACH : Danses d'Anna Magdalena
BRENDA KAHN : 3 titres inédits
CAKE : Rock 'n' roll lifestyle
PERE UBU : Folly of youth see dee +

THE IMPERIAL POMPADOURS : Ersatz
DEVO : Be stiff
DEVO 2.0 : Dev2.0
WOODHEAD MONROE : Identify
LOCAL HEROES SW9 : New opium -/- KEVIN ARMSTRONG : How the west was won
EILEEN : Mon frère le poisson
JEAN-PIERRE ET NATHALIE : Quand on pourra s'payer une auto...
GONTHIER : Ô, Chauny comme tu es jolie !
MELO : L'oiseau tombé du nid
PIERRE PERRET : En public
GERARD PALAPRAT : Ô France
ELECTRIC ARENA : La danse des élections
AN DER SCHONEN BLAUEN DONAU
STTELLLA : Les poissons s'en fishent et les pieds s'en footent
GRANDADDY : Machines are not she
RODRIGUEZ : Swing like a metronome
LITTLE WINGS : Light green leaves
NORFOLK & WESTERN : Brigadier farewell
THE 4 KNIGHTS : Sing
TENNESSEE ERNIE FORD : Sixteen tons '65
BILL HALEY : Rock around the clock
DAVE BARTHOLOMEW'S NEW ORLEANS JAZZ BAND
CAPTAIN BEEFHEART AND HIS MAGIC BAND : Dropout boogie
THE ORIGINAL SOUNDTRACK FROM NAKED ANGELS
FRED SCHNEIDER & THE SHAKE SOCIETY
MYSTIC KNIGHTS OF THE OINGO BOINGO : You got your baby back
PATTI SMITH : Hey Joe
BRIAN WILSON : Good vibrations
JUAN & MARIA : Juarez blues
FALL OF SAIGON
THE LEGENDARY PINK DÖTS : Atomic roses
ROCK FELLER : 6 titres
THE MURPHY FEDERATION : The fed up skank
THE GIFTED CHILDREN : Painting by numbers
THE PHONES SPORTSMAN BAND : I really love you
BILLY ZE KICK & LES GAMINS EN FOLIE
CHRIS GONTARD : J'ai envie de crever
REMY CHANTE : Disque lazer
MELON GALIA : Vous me quittez déjà
DOCTOR SEAN BERG & YA YA HD : A trip to Tripville with Doctor Sean Berg & Ya Ya HD
COW : Beard
JAMES YORKSTON AND THE ATHLETES : The Lang Toun
LE CAMEMBERT RADIOACTIF : F... ! Chirac
ARAB STRAP : There is no ending 194