VIVONZEUREUX!
(EN ATTENDANT LA MORT)
le fanzine hoptimiste lucide

LEWIS FUREY

february 16th 2008

back home

version française
---
LEWIS FUREY : "Lewis is crazy "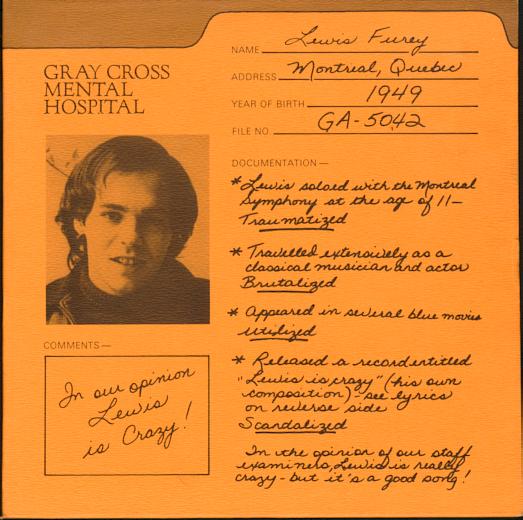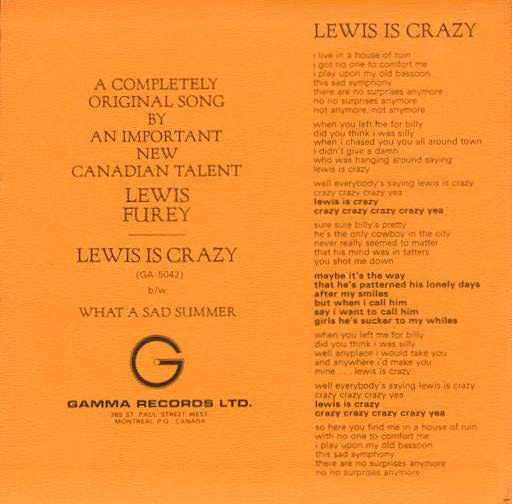 (Gamma Records, GA-5042, 45t, 1972)
All songs by Lewis Furey
© 1972 Lewis Furey
Sometimes, life can give you the impression you live it like you're in a fairytale...
When I published my feature on Lewis Furey on this site, I oviously got some feeback from web readers. One of the more intersting ones came in 2001 from Leslie Radowill, an american fan of Lewis and Carole, who asked if I would care to translate the piece in English. He also kindly offered to send me copies of american press extracts on Lewis he had kept...
I started the translation, and I never finished it (sorry Leslie and the other english speaking readers !). But I did get the documents from Leslie. They were a real goldmine, since they all dated from the time of the first two albums, an era about which I have very little documentation.
In the envelope, I found the original A&M Records press blurb for the american release of the first album (read here Lewis's own comments on each of the songs of the album, taken from this press release), an article by Peter Lester published in Andy Warhol's "Interview" at the time of the first album, and several very interesting clips from New-York's "After dark" magazine. It's not very surprising that "After dark" gave regular accounts of Lewis Furey's activities, since Bill Como, "After Dark"'s editor-in-chief, published some of Lewis's poems several times between 1972 and 1975, like "Sugar's suicidal trance" and "Rusty's swan song". In 1973, "After Dark" commissioned Lewis to do an interview with actress Carol Kane. They knew each other since they were together at the same artist school at some time (read this interview).
It is in a two-page article published by "After dark" in april 1977 on the occasion of the release of "The humours of Lewis Furey" album that I found the greatest amount of interesting information about the early stages of Lewis's career.
Apparently, Lewis was discovered in Montreal by Frazier Mohawk, an unknown legend of rock'n'roll (go read his bio), who played drums with him on his first "rock" show, in a department store of the city. He was then signed to Gamma Records (a label known in Quebec for its french-sung production), which may have released FIVE SINGLES by Lewis Furey between 1972 and 1975, produced by John Lissauer, with some backing vocals by Manhattan Transfer (with whom John Lissauer has worked on other occasions, and of whom singer Erin Dickens, who can be heard on several Lewis Furey records, is a founding member). It is after listening to these records that manager Barry Krost is supposed to have made the trip to Montreal for a Lewis Furey show, before signing him to A&M. Elsewhere in the article, we learn that Lewis, Leonard Cohen and poet-novelist Barrie Wexler had started in 1972 a sonnet society which met weekly to confront their production on a set theme.
Of course, the possibility of the existence of five 7" singles by Lewis Furey, released in Canada before the first album, made me all feverish. Not surprisingly, these records immediately jumped to the top of the mental list of my most wanted records. Without much hope of success, I stated on this site that I was looking for these records, and I also put a message on the bulletin board of Lewis Furey's official site. On visiting this site again in early 2003, I found a message by one Bill stating that he owned a single by Lewis Furey on Gamma from 1972, "Lewis is crazy" b/w"What a sad summer". Immediately, I answered him that I was interested in more details on tnis record, and even more by a copy of the record.
I had a big surprise a few weeks later : I received an email from Mr. John Lissauer, producer of lewis Furey, Leonard Cohen and many others, telling me that maybe he had a copy of Lewis's first single(s), and also that he had liked my feature on Lewis Furey !!! Two weeks later, annother email from John Lissauer : he had dug up three copies of the "Lewis is crazy" single and he was offering to give me one. Sometimes, life can give you the impression you live it like you're in a fairytale...
After a few days of anguished wait, imagining the worst (the single arriving broken...), I received the heavily expected object. An object, yes indeed, with a very thick orange cardboard sleeve, printed in black and white. On the front, something which is intented to look like the file of a patient at the Gray Cross mental hospital. The "patient" is a very juvenile looking Lewis Furey, judging from the passport photo shown, and of course the diagnostic is that "Lewis is crazy" !! On the back, the lyrics to the song, and a little paragraph ("A completely original song by an important new canadian talent") which might lead us to think that this is more of a promotional item than a commercially available single.
Very self-consciously, I placed the record on my turntable. The version of "Lewis is crazy" given here, from 1972, is of course different from the one on the album in 1975, but not that much. There are no musician credits, but the producer us the same (John Lissauer) and the arrangements are close to the album ones. But the song starts and finishes on the piano, with a verse that is not featured on the album version. The backing vocals are different. The banjo is less present in the mix, and Lewis addresses directly the one who left him ("When you left me for Billy") whereas he speaks of her in the third person on the album version.
In the extra verse, there is mention of an old bassoon. It reminded of something, so I dug out the first Carole Laure album, "Alibis", to listen again to "Tout le monde dit", the cover in French of "Lewis is crazy". And, surprise, the verse is indeed present on this version, translated rather faithfully by Dominique Issermann ("Dans ma maison toute craquelée (...) je prends mon vieux basson pour jouer cette triste symphonie"). The arrangements are very close to the single ones, but this is not very surprising, since they are by John Lissauer and since the musicians are the same as on the 1975 version (including bass player Jon Miller, who is only present on this one song on "Alibis"). But it does indeed imply that at the time of recording "Alibis" en 1979, it is the original version of the song that was used to translate the song, not the album version.
After this first listen, I caught my breath, turned the record over, and prepared myself to listen to an absolutely unknown Lewis Furey song from before the first album. Except that "What a sad summer" was all but unknwown to me, and I can't decide whether or not this disappoints me, since it is actually one of Lewis's most remarkable songs, "Louise" !!
Here again, the version is only marginally different. The atmosphere is maybe more dramatic ; the woman voice doesn't seem to be the same, there are more backing vocals, and the ending is longer with repetitions of "Louise... the name". The expression "What a sad summer" is said by Lewis when the woman talks. This sentence is not featured on the album version, but here again I should not have been too surprised (and I could have guessed that "What a sad summer" was the same song as "Louise") since, in the only other available recording of "Louise", on the live "Théâtre de la Porte Saint-Martin" album from 1982, Lewis does pronounce this sentence...
In the end, the pairing of these two songs is interesting. It gives the impression that both songs could be about the same love story (and Lewis has explained himself that "Louise" was about his first love). I can only thank John Lissauer once more for this magnificent present and, as life can sometimes give you the impression that you live it like you're in a fairytale, I can still dream about the four other Gamma singles (which don't actually exist, as John Lissauer confirmed : 5 songs were recorded during the session that yielded the "Lewis si crazy" single, but no other record was released on Gamma), and the video for "L'Ange et la femme", and the unreleased Lewis Furey soundtracks, including "Jacob Two-Two and the hooded fang", etc, etc.
---
Lewis is crazy
i live in a house of ruin
i got no one to comfort me
i play upon my old bassoon
this sad symphony
there are no surprises anymore
no no surprises anymore
not anymore, not anymore
when you left me for billy
did you think i was silly
when i chased you all around town
i didn't give a damn
who was hanging around
saying lewis is crazy
well everybody's saying lewis is crazy
crazy crazy crazy yea
lewis is crazy
crazy crazy crazy crazy yea
sure sure billy's pretty
he's the only cowboy in the city
never really seemed to matter
that his mind was in tatters
you shot me down
maybe it's the way
that he's patterned his lonely days
after my smiles
but when i call him
says i want to ball him
girls he's a sucker to my wiles
when you left me for billy
did you think i was silly
well anyplace i would take you
and anywhere i'd make you
mine... lewis is crazy
well everybody's saying lewis is crazy
crazy crazy crazy yea
lewis is crazy
crazy crazy crazy crazy yea
so here you find me in a house of ruin
with no one to comfort me
i play upon my old bassoon
this sad symphony
there are no surprises anymore
no no surprises anymore
---
What a sad summer
louise
the name
i feel the blade in my back
how come everyone
talks 'bout the girl
who left my heart a mess of tracks
i love her
yea i love her
it's all of my life
and everybody's known her known
known what's all of my life
one fine morning
i found out she was gone
we'd never had a fight
she told me i was learning
things that were wrong
do you think she had the right
sure i taught him things he never
should have known
what a sad summer
if i could change what's been done
he'd never left home
i wish i never had a lover
like louise
the name
why must i hear that name
everyone's
talking about the girl
i feel her fame is my shame
i loved her
yea i loved her loved her
love was all of my life
and everybody's known her known
known what's all of my life
one fine morning
i found out she was gone
we'd never had a fight
she told me i was learning
things that were wrong
do you think she had the right
bien sûr je t'ai appris
des choses qu'il ne fallait
jamais que t'apprennes
what a sad summer
si je pouvais changer
ce qui est fait tu n'aurais jamais
jamais jamais quitté ta maman
i wish i never had a lover
louise, aah
louise, louise, aah,
louise, louise, the name
i wish i never had a lover
louise, louise,
louise, louise,
louise,the name