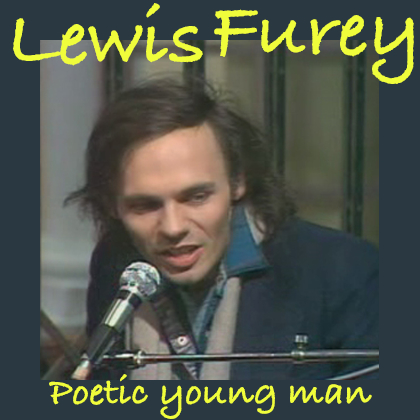 LEWIS FUREY : Poetic young man (Rare and unreleased tracks, 1972-2008)
collection : "Not available"
ref : not available 019
release date : June 7 2009
format : 30 track CD

Credits :
Compiled by Pol Dodu
Cover design adn liner notes : Pol Dodu
Photo : Taken from the performance of "Lullaby" by Lewis Furey on the "Numéro Un" show on French TV, February 4 1978.
All in all, Lewis Furey's recorded output as a performer is rather scant : three solo albums from1975 to1979, a live record with Carole Laure in 1982 , two musical film soundtracks in 1980 and 1985, also with Carole Laure.
After this date, you could have been allowed to think that his career as a performer was over, since he then chose to concentrate on other projects : staging shows, writing and producing records for Carole Laure, directing music videos and feature films.
But in July 2008, Lewis Furey the singer and performer rose again for the International Jazz Festival in Montreal, for a recital of Selected songs from all points in his songwriting career these last thirty-plus years. This show, for which he is accompanied by two female backing singers, including his daughter Clara, and a musician, was also given in Tokyo in March 2009 and is scheduled in Paris at L'Européen from February 3 to 7 2010.
In the meantime, as a tribute to Lewis Furey's talent and on the occasion of his 60th birthday, Vivonzeureux! Records is pleased to supply you with its own selection of rare and unreleased Lewis Furey tracks, culled from those of his recordings that are not featured on his album discography mentioned above.
Pol Dodu, June 2009.
Titles 1 to 5 from the sessions for the "Lewis is crazy" single
Up until 2003, I was persuaded that Lewis Furey's inaugural record was his first album in 1975. That's when I leart about the existence of a first single remeased in 1972. Of course, both sides of this 7" are featured in our selection, but the good news is that we have been able to lay our hands on the three other tracks recorded at these 1972 sessions, produced by Frazier Mohawk and arranged by John Lissauer. Among the remaining titles, "Tragedy" and "Don't be dead" have remained unreleased, while "The crash" was rerecorded under the title "Pretty baby" for the album "The sky is falling" in 1979.
Title 6 from the original soundtrack for the film "La tête de Normande Saint-Onge"
Following his first meeting with Carole Laure at one of his concerts at L'Evêché of the Hotel Nelson in Montreal, Lewis Furey had the opportunity to compose his first film score for "La tête de Normande St-Onge", a film by Gilles Carle starring Carole Laure. The main theme, presented here, will sound familiar to those who know "The humours of Lewis Furey" de 1976, as it is originally the same composition as "Cop's ballet", except here it also benefits from John Lissauer's arrangements.
Titles 7 to 9 from the original soundtrack for the film"The rubber gun"
The Canadian movie "The rubber gun" must have been the work of a group of friends, including director Allan Moyle ("Times Square", "Pump up the volume"), actor and co-writer Stephen Lack (who designed the covers for Lewis Furey's three solo albums) and music scorer Lewis Furey. The three songs from this original soundtrack make up an important part of the album "The humours of...", but here thay are featured in their original version, before producer Roy Thomas Baker put his stamp on them.
Title 10 from the original soundtrack for the film "L'ange et la femme"
Very soon after "La tête de Normande St-Onge", Lewis Furey and Carole Laure were united again on the set of a Gilles Carle film, except this time they now had the two main acting parts of this story that saw the Angel Lewis Furey bring back to life the Woman Carole Laure and fall in love with her. A story that can be seen as an allegory of the romantic meeting of Lewis and Carole.
The original music is by Lewis Furey, of course, and we have drawn from it "J'étais morte... (I was dying...)".
Titles 11 to16 from the original soundtrack for the film "Jacob Two-Two meets the hooded fang"
The next film score by Lewis Furey only features otherwise unreleased songs. This Canadian film based on the Mordecai Richler novel of the same title is considered as a film "for children", but its description of the exploitation of children is without concession (the film is currently available on YouTube).
"What if" is the very beautiful theme song to the film. Generally, you can feel in this music the influence of the then very recent recording of "The humours of...", especially with the electric guitar and the nearly glam sound of "Child power". In "Slimer's tango", Lewis Furey's voice strangely echoes the one of another of my favourite singers, Howard Devoto from Magazine. This tango spawned another one, since Carole Laure explained in interview in 1979 that the writing of the song "Joue-moi un tango" ("Bring me a tango"), co-signed by Lewis and Carole, had started on the phone because she was jealous that Lewis had written a tango for a kids movie and not for her.
Titles 17 to 23 : Songs from the play "Jacky Parady"
They had hardly settled in Paris that Lewis Furey and Carole Laure caused a sensation with their show at The Palace at the end of 1977. It's probably one of the consequences of these shows that led to Lewis Furey being hired by Jean-MIchel Ribes to write the songs for his play "Jacky Paradis", premiered at the Théâtre de la Ville in Paris in January 1978.
Lewis Furey's site gives a list of four songs from this play, known to have been rerecorded later under the titles "Jacky Paradise" and "Desire Machine" by Lewis Furey on "The sky is falling" and "Baci baci" and "La valse de l'oubli" by Carole Laure on "Alibis". We supply you with these songs as recorded originally by Lewis Furey for the stage, with their original lyrics in French, and we add for your pleasure the three missing songs, "Succès", "Si j'étais moi" and "La nature nous joue des tours de lascars", this last one being very close in theme to "Circus melodie", another track on "The sky is falling".
Title 24 : A side from the Les Petites Filles single
There were already some more or less disco tunes on "The humours of..." in 1976, but the disco sound was still omnipresent in 1979. The choir of Les Petites Filles backed Lewis Furey and Carole Laure on stage at The Palace, then again at Bobino in the Spring of 1979. That's when someone (Pierre Barouh from Saravah ?) to release under the Petites Filles moniker this dynamic tune complete with disco bass, drums and violin, on which Les Petites Filles are efficiently seconded by Lewis and Carole. And it nearly took off : with the support of Europe 1 radio mostly, who were on eof the partners of the Bobino show, the record got a good deal of airplay and must have sold fairly well. (The audio for "Sauverais-tu ma vie ?" is on YouTube).
Title 25 from the original soundtrack for the film"Au-revoir à lundi"
For this Maurice Dugowson film, Carole Laure was one of the top stars and, apart for a one-scene cameo, Lewis Furey only got to write the title song, available in four versions on the film soundtrack album, the remaining music being by Jean-Daniel Mercier. This song is a Lewis-Carole duet, the sessions of which must have been held concurrently with those for the Les Petites Filles singer, the team being the same, with bass player and arranger Graham Preskett (already present on "The humours of...") and engineer Leanne Ungar,who has worked on many Lewis Furey and Leonard Cohen records.
This song was also released as a 7" single.
Title 26 : Demo recording for the film "Le phoque" ("The seal")
Lewis Furey had mentioned this project in the press in the early 80's. The Gilles Carle manuscripts at the Canadian National Archives confirms it : after having collaborated once again with Lewis Furey (and Carole Laure) for "Fantastica" in 1980, Gilles Carle worked from 1981 to 1986 with Gérard Brach on several versions of the script for a film projet titled "Le phoque", based on an original idea by Lewis Furey. As is the case with many film projects, this one has so far never materialised, but, as well as the archived scripts, we still have the original music composed by Lewis Furey for it. Here's a piece of it, a demo recording of the title song.
Titles 27 and 28 : A and B sides from the "I should have known" single
These studio recordings were released on a 7" early in 1982, to coincide with Lewis Furey and Carole Laure's residency at the Théâtre de la Porte Saint-Martin in Paris. Both songs are otherwise completely unreleased (a unique faet in Lewis Furey's discography, bizarrely). The lyrics to "Slowly, I married her" are by Leonard Cohen. For a very long time, I thought that this was the first fruit of the collaboration that would lead to "Night magic". It might have been the seed for it, but it is actually a Cohen poem initally published in the "Death of a ladie's man" collection in 1978 (You can listen to Leonard Cohen read it on Canadian television in 1979), that Cohen is said to have offered one night to Harry Belafonte for him to make a song out of it.
Title 29 : Demo recording for the opera "The room" ("La salle")
As early as 1982, Lewis Furey and Leonard Cohen had talked separately in the pressof a then quite innovative project, a multimedia musical project called "The hall" ("La salle"), to be released on video-disc. The lyrics was by Cohen, the music by Furey. The project never came out in this form but some of the songs were already written then since two of them were performed at the Théâtre de la Porte Saint-Martin, "I've counted what I have" and "Wishing window".
In the end, "The hall" ended up as a musical film, "Night magic", Lewis Furey's directing debut in 1985. One of my favourite songs from the soundtrack to this film has always been "Fire", and I've often had the feeling while listening to Lewis Furey's deep voice and elocution on this track that I could hear in parallel the interpretation that Leonard Cohen himself could have provided. Well, it is with great pleasure that we have rescued from oblivion such a recording, made on the spot in Summer 1981 while Lewis at the piano and Leonard on vocals were working together on the songs from "The hall".
Title 30 : Live recording at the International Jazz Festival in Montreal
Except for a few appearances on Carole Laure's albums, Lewis Furey's career as an interpret of his own songs seemed to have come to an end with the release of "Night magic" in 1985. All changed with the surprise announcement of his appearance at the International Jazz Festival in Montreal in July 2008 to perform a recital of a selection of his songs. After a second appearance in Japan in 2009, it seems that the next stage will be a series of concerts in Paris in January 2010. In the meantime, we wrap things up neatly and conclude this compilation with the performance of "Hustler's tango" in Montreal, the very song that opened Lewis Furey's first album and is now considered as an underground classic.