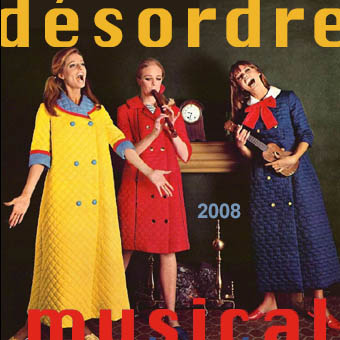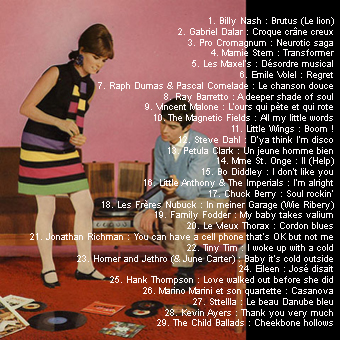 DÉSORDRE MUSICAL 2008
collection : "Not available"
ref : not available 018
release date : january 4 2009
format : 29 track CD

Credits :

Compiled by Pol Dodu
Cover art and liner notes : Pol Dodu
Photos :
Front : "Sing out in Avril Rayon", advertising published in Seventeen Magazine in the USA in 1966
Back : "Groovy vinyl", unknown origin
I've stopped playing the game of giving my selection of "the best records of the past year" a long time ago. To play this game, you need to be in the position to pretend that you have listened to the majority of the music released in the concerned field, which is not my case and which seems to me nigh on impossible these days. I also find this much too restrictive since the vast majority of the music I discover and groove to over a year is rather ancient (in 2008, I think the oldest was "Take your burden to the Lord and leave it there" by Washington Phillips, recorded in 1927 and selected by Paul Weller for a Mojo Magazine CD).
So, I prefer to play with my own rules and deliver on this CD a selection of tracks that I didn't know at the start of 2008 and that I greatly enjoyed. Some are recent but over three quarters of them date from before 2008, the oldest being from 1949 ! There's rock, country, chanson, Caribbean music, but mostly lots of great songs that don't take themselves too seriously.
There is some artists overlap between both records but no song overlap with the previous compilation released on, "Testament du rock vol. 5".
Pol Dodu, january 2009.
In the track list below, I simply link the records featured on Blogonzeureux! to their review and I give a few details for the others.
1. Billy Nash : Brutus (Le lion)
2. Gabriel Dalar : Croque crâne creux
3. Pro Cromagnum : Neurotic saga
4. Marnie Stern : Transformer
It is through a 2007 piece in Plan B that I first heard about Marnie Stern. Luminous, full of virtuosity, she has the great talent to produce music that both "complicated" (avant-garde some would say) and highly accessible.
5. Les Maxel's : Désordre musical
7. Raph Dumas & Pascal Comelade : Le chanson douce
When Pascal Comelade collaborates with a DJ friend, he gives us some sort of sequel, 25 years later, to the "Chanson" on which the voice of an infant Cathy Claret could be heard. And he affords himsef the luxury to release a track with a strong commercial potential only on 7" on a small label, rather than on the on that releases his albums.
Infos : http://vivonzeureux.fr/Pages/pidgcomeladisco.html
Listen : www.myspace.com/raphdumas
8. Ray Barretto : A deeper shade of soul
It's the song of the same title by Urban Dance Squad on Blogonzeureux! that I realized that the Dutch band had not only sampled but actually covered the original track by Ray Barretto, without actually adding much new or interesting elements to the 1972 original version.
9. Vincent Malone : L'ours qui pète et qui rote
When I reviewed his record on Blogonzeureux!, I found scant information about Otto. So I searched with the name of his producer Vincent Malone and this I found out that a) he's quite a fuynny guy and b) he is well-known among kids as the "Roi des papas". "L'ours qui pète et qui rote" ("The bear that farts and burps") quickly became one of my top hits of the year.

10. The Magnetic Fields : All my little words
This year, I read and reviewed the excellent book from the 33 1/3 series dedicated to "69 love songs" by The Magnetic Fields. Looking for information on this subject, I chanced upon this live recording at the Trinity Church in Toronto in July 2004 of one of the 69 songs.
12. Steve Dahl : D'ya think I'm disco
When the send-up is better than the original, listen to the send-up !
Download at WFMU.
13. Petula Clark : Un jeune homme bien
On the same day I bough the Eileen records, I got a whole lot of sixties records including several EPs by Petula Clark. On this occasion, I had the happy surprise to discover this excellent cover in French of The Kinks' "Well-respected man".
Infos : www.telerama.fr/musique/petula-clark-2,38097.php
14. Mme St. Onge : Il (Help)
An incredible Beatles cover, in French if you please, discovered thanks to WFMU, which offers for download the whole of the 10 plus grands hits of Mme St-Onge.
16. Little Anthony & The Imperials : I'm alright
Or how, while looking for information about Bo Diddley, I learnt that the excellent "I'm alright" by The Rolling Stones, credited to Nanker Phelge, a collective alias, sounded a lot like "I'm alright" by Little Anthony, itself a cover of "She's alright" by Bo Diddley. Since then, it seems the Stones song credit has been corrected and now mentions Elas McDaniel, alias Bo Diddley.
17. Chuck Berry : Soul rockin'
18. Les Frères Nubuck : In meiner Garage (Wie Ribery)
19. Family Fodder : My baby takes valium
In 2008, Jungle Records gave a successor to "Greatest hits" released by Crammed in the early 80's : a double CD that is a complete retrospective of Family Fodder's output, including rare and unreleased stuff, with a carefully chosen title, "More great hits". A good opportunity to dig deep in the band's discography and unearth this excellent B side of their first single.
Infos : http://vivonzeureux.fr/Pages/familyfodder.html

20. Le Vieux Thorax : Cordon blues
In 2008, Le Vieux Thorax released online a series of tracks under the generic title "Garage de gauche" in which he associates political discourse and garage rock. "Cordon blues" is my favourite of the lot.
Download it at DavDuf
21. Jonathan Richman : You can have a cell phone that's OK but not me
22. Tiny Tim : I woke up with a cold
37 seconds, is quite enough for Tiny Tim and his ukulele to tell us how he woke up with a bad cold, and that's more fun to us than to him !
Download it at C60 Low Noise

23. Homer and Jethro (& June Carter) : Baby it's cold outside
A hilarious song (a cover) from the first Homer and Jethro record (in 1949 !), featuring on this occasion June Carter, then 20 years old. There's such a big contrast betweeen the wise-cracking young June of the forties and fiifties and the religious zealot she became later on.
Download at WFMU
24. Eileen : José disait
This year, I bought in Athis three sixties EPs by Eileen. I reviewed one of them for Blogonzeureux!, another contains the first Frenc version of "These boots are made for walking" and the third features "José disait", thhis delightlful Mexicano-styled ditty, to be filed alongside Ween, Calexico and Anne Sylvestre.

25. Hank Thompson : Love walked out before she did
Following his demise toward the end of 2007, many sites have put online MP3s by Hank Thompson. That's how I got to know this country singer, and this is my favourite track of his so far.
Download at Joie de Vivre
26. Marino Marini et son quartette : Casanova
After buying and reviewing a Marino Marini EP, I have been on the lookout for his records and found his very first EP, featuring "Casanova" which,like most of his recordings, benefits from high quality playing and refined arrangements.
27. Sttellla : Le beau Danube bleu
28. Kevin Ayers : Thank you very much
In September, Harvest released the 4 CD Kevin Ayers box "Songs for insane times" : 1 with an unreleased concert and 3 of retrospective, which finally gave me the chance to listen to the original version of this song, rerecorded by Ayers in the early 90's on "Falling up".
29. The Child Ballads : Cheekbone hollows
The Walkmen are well-known now. Before, they were members of Jonathan Fire*Eater, but it is only in 2008 that the singer of this band, Stewart Lupton, reappeared on the scene with the firt Child Ballads record, even though I had had the opportunity to download this song as aerly as 2005 under the title "The onion domes of Thalahassee".
Listen here