Towards the mid-seventies, rock was just about twenty years old. Hardly a generation had passed since its beginnings, but rock'n'roll already belonged to the past. Well, this generation included the whole of the sixties, a decade during which western society was profoundly and very rapidly overshaken, from the success of rock and the frenesy of its teenage audience at the end of the fifties and eraly in the decade to the hippy-psychedelic wave and the social upheavals of 67-68.
Rock was not yet museified towards 70-75, but it was already the subject of nostalgia. Pioneers like Chuck Berry, Bo Diddley or Jerry Lee Lewis benefitted from the first revival tours and from prestigious recording sessions, some of them in London with many pop music stars guesting. The film American graffiti, which more or less launched the retro wave, was released in 1973 while the Happy days TV series, with Fonzie notably, was broadcast on French TV from 1976 onwards. Still in France, Johnny Hallyday and Eddy Mitchell were already polishing up their legends while looking back on their younger years, that William Sheller (Comme dans un vieux rock'n'roll, 1976) and Laurent Voulzy (Rockollection, 1977) would soon revisit.
Feeling the mood of the times, and prospective good sales, EMI France, through its budget label Music For Pleasure, released in France starting in 1974 a series of four vintage fifties "original recordings" compilations under the Testament du rock banner. These records, sold mostly in supermarkets for a little over the price of a single, have been widely distributed, especially the first two. The first volume in the series is even a certified gold record in France for sales of over 100,000 copies.
On these four compilations you find rock, and even one eternal rock classic, Be-bop-a-lula by Gene Vincent, a woman rocker (Wanda Jackson), some rhythm'n'blues with Johnny Otis, and even lots of songs by Louis Prima, who belongs more to the jazz and music-hall worlds, but who was signed to EMI.
For my part, itn is with the first two volumes in the series that I discovered old-time rock and roll, my favourite songs being Be-bop-a-lula, Stupid cupid, Let's have a party and the much less rocking Buona sera and Over the rainbow.
Today, over thirty years after the release of Testament du rock vol. 4, rock itself being over fifty years old, Vivonzeureux! Records is happy to present you with volume 5 of Testament du rock. This release is made possible by the fact that the tracks from this era are now more or less in the public domain, depending on the efficiency of the lobbying of the record industry on both sides of the Atlantic. It is also made possible by the fact that, although this music is now part of our heritage, it has never been as present and alive, thanks to multiplying quality reissues (even cheap ones) and to the labour of love of many sites and blogs (WFMU, Boogie-Woogie Flu, Living In Stereo to name but three) who make us discover everyday great songs that are completely accessible to our 21st century ears, even though one is sometimes surprised to discover that they were first released on 78 rpm shellac vinyl (which is the case of most of the tracks selected here). We can rejoice too that a good number of the artists on this record, are still with us, such as Fats Domino, Chuck Berry, Magali Noël and Andre Williams.
To compile this volume 5, we have not restricted ourselves to the EMI catalogue, which must have changed a lot in thirty years. The criterion chosen to select the songs for this filled-up 20-track vinyl album is very simple : the songs had to please us, to make us sing inadvertently, to make us dance, even to make us burst laughing sometimes, without nostalgia having anything to do with it. It was decided to choose only songs recorded in 1958 or before and, in order to respect the overall unity of the series, Gene Vincent, Louis Prima and Johnny Otis are all present. Only Wanda Jackson is missing among the artists featured on all of the first four volumes of the collection.
The album opens with Bear cat by Rufus Thomas. Like several other tracks on this record, it is a recording which was originally conceived as a send-up (of Hound dog by Big Mama Thornton). It seems to me that the exaggerations required by satire make it easier for these songs to age gracefully. It is only in the sixties that Rufus Thomas dedicated himself completely to a recording career, with his classic Walkin' the dog, many other animal-themed songs like Funky chicken and duets with his daughter Carla, but to me Bear cat betters any other version of Hound dog ever recorded, be they by Elvis or others, and this song is realistic enough to wake up my cat every time I listen to it !
Poor "Sugar boy" Crawford is mostly well-known for being robbed of the majority of his royalties when Iko iko, completely aping his Jock-a-mo song of 1954, became an enormous hit for The Dixie Cups in the sixties. The frenetic Overboard is the B side of the first recording of Crawford for Chess. It is so loose and mad maybe just because the session was meant to be an audition for the label, not specifically intended for release.
Thirty days by Chuck Berry was released on his second single, but it is one of the four songs recorded on his first session for Chess in 1955, which also yielded first single Maybelline. Chuck gives a thirty days ultimatum for his girl to come back home. Thirty days is already quite a good deal of time, but Chuck doesn't seem so sure of himself since, after consulting a gipsy woman, he thinks of getting help from a judge, the FBI and even the United Nations !
With Pretty thing, Bo Diddley plays on an eternel theme (Pretty thing, I'd like to marry you...). The influence of the Bo Diddley beat is felt on piano player Huey Smith's Free single and disengaged, another guy who, with his Clowns, didn't take himself too seriously but whose song he's of a superior quality.
Howlin' Wolf, like Elmore James, is generally considered as a blues artist, but there are no stylistic borders in music. Moanin' at midnight is produced by Sam Phillips, head of Sun Records and the guy who launched Elvis Presley, while on Rock my baby right, the piano player is Ike Turner, creator of Rocket 88, a song released on a record by Jackie Brenston which is very officiously meant to be the "first" rock'n'roll single.
Andre Williams and Louis Prima are great showmen. After Bacon fat, Williams makes wonders talking dirty on The greasy chicken, over the music of The Five Dollars. Beep-Beep by Louis Prima was recorded in 1956 but only released in 1957 : maybe because in the meantime an engine named Sputnik had started to send beep-beeps from above... Louis Prima is present indirectly a second time on this record with the very delicate cover of Buona sera by Marino Marini and his quartette. It is the original version of this song which opened the first volume in theTestament du rock series. The Italian band sings Buona mostly in French, meaning it's actually a cover of the 1958 cover by Line Renaud (!), with french lyrics by her husband Loulou Gasté, one of the first to adapt rock and roll into French.
Well I heard John say, "Man, she's my gal" I heard another say, "Man, she my pal" (...) Well, the lights went on, then went off John got slapped tryin' to hold his own Well, who-who, Who slapped John?" That's the scene depicted by Gene Vincent on a single and album track from1956. To have the answer to this question and identify the culprit you have, still in 1956 but across the Atlantic, to listen to Magali Noël explain to us about this Johnny : "He got on my nerves, so I slapped him and I shouted fiercely, Hurt me bad Johnny Johnny Johnny". Boris Vian thought that tock in French could only be conceived as burlesque but, after more than fifty years, what matters is that his song, sung by by Magali Noël, has aged perfectly.
The same can be said of Elvis Presley's Heartbreak Hotel as parodied by comic Stan Freberg, also from 1956. Proof that you could make fun of rock and roll and forebode The Cramps only a few months after The King had first burst on the scene.
Fats Domino, like Chuck Berry, is a living legend. He - barely - survived Katrina and next year will be the 60th birthday of the release of his first single, The fat man. The big beat is a simple tribute to the rock'n'roll beat, able to make everyone stand up and move, including elderly and crippled people.
On side 2, four successive tracks are more or less of the doo-wop genre. Say it by The "5" Royales surprises with its proeminent electric guitar. After the fact, some have even branded it pre-Hendryxian, by a mile since this song is from 1957. A lover's question is more typical of the genre, but it's an excellent hit by the founder of The Drifters. Bad motorcycle had been released in 1957 under the Twinkles monitor and sunk without a trace. Reissued in the same version under the name of The Storey Sisters, the single fared much better. It would have been a pity if we had not had the chance to hear the sisters going "Vroom vroom vroom" so perfectly. Phil Spector must have been eavedropping on this record... I'm living OK sounds like a very good but more normal doo-wop title too, also withn electric guitar. Except that, released in 1950 (the oldest recording on this album), it reveals itself to be one of the earliest crowning achievements of its kind. Moreover, The Robins being backed by The Johnny Otis Orchestra, it allows us to feature on this record an artist that is also present on the first four volumes in the series.
Country ? Rock ? Rock ? Country ? We don't care about pigeonholes and neither did Johnny Cash. I walk the line is a great love song and a certified classic, even without drums ("prohibited" then on country recordings) advantageously replaced here by a piece of paper slipped between Cash's guitar strings.
Since I bought nearly a year ago a Four Knights EP containing this cover of (It's no) Sin, I have had the opportunity to listen to two 1951 hit versions of this song, the original by The Four Aces and the cover by Eddy Howard, my favourite remains the Four Knights one, a very pure sketch with just an electric guitar and the four voices of the singers. It allows us to finish off this compilation very quietly, in the same manner that Over the rainbow by Gene Vincent did with the first volume in the series.
Pol Dodu, august 2008.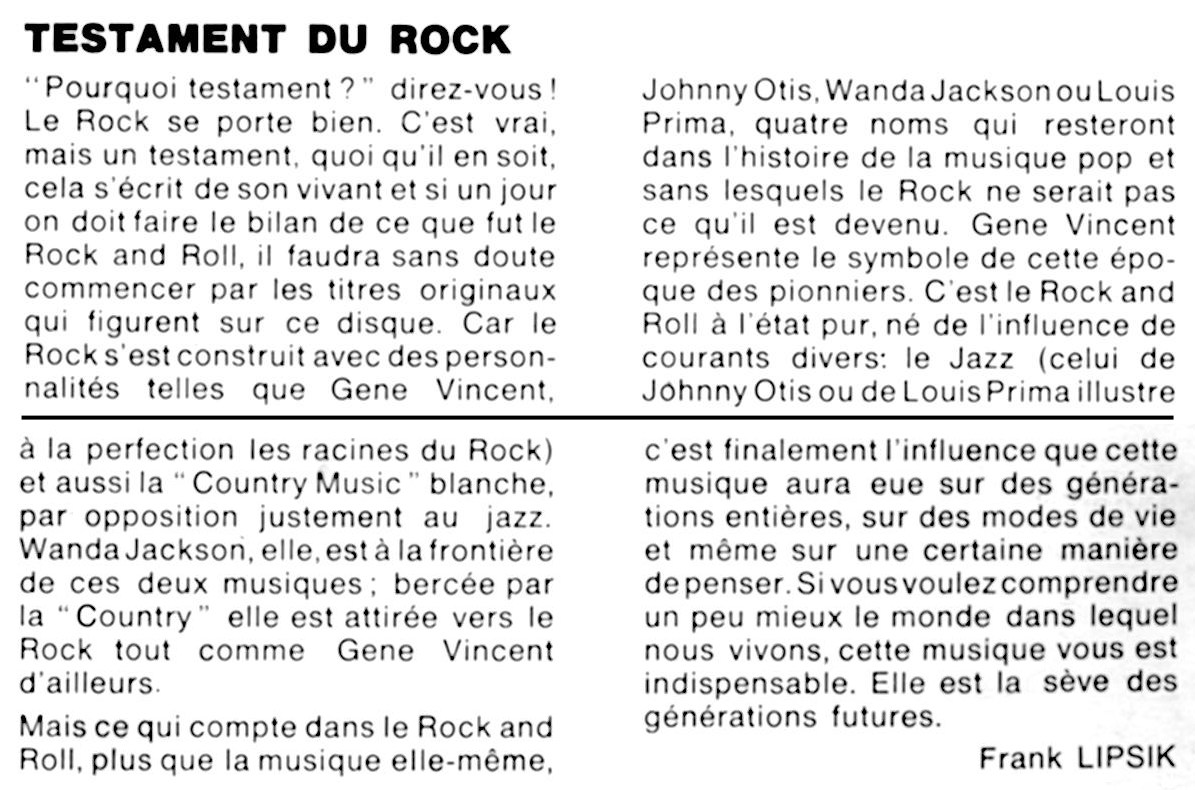 Liner notes for the first volume in the Testament du rock series by Frank Lipsik, 1974.