Artist : The Dolphins
Record : "Thin fine line" (7", Day Release Records, DAY 1, 1981)
listen to an extract of "Thin fine line" (Al Turner)
listen to an extract of "She took a long cold look" (Syd Barrett)
listen to an extract of "Cable Hogue" (John Cale)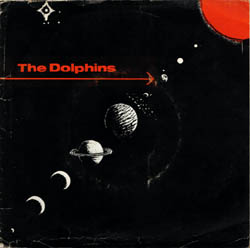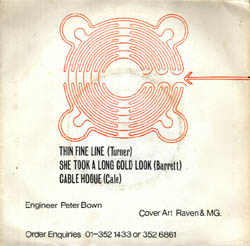 This record is one of the great many that I bought by chance - but not completely at random - in the basements of the Record & Tape Exchange shops in London. You're often disappointed with these chance buys, but sometimes you pick up a real treasure...
And I remember very well why I took this one among the hundreds in the 10 p bin. Not because of its folded paper sleeve printed in black and orange (an ink-drawn solar system on the front, a labyrinth probably drawn to kill time in a college class on the back...), but quite simply because of the choice of covers on the B side : one by Syd Barrett and one by John Cale, sorry if it's not enough for you !
Everything leads me to think that The Dolphins were British. The "Bible" ("International discography of the new wave, volume 1982/83" by B. George and M. de Foe) lists this record, but no other. We can reasonably deduct from this that this is their only release.
The A side is credited to Al Turner. There's a publishing credit on the record label (Decor Din), which makes me hesitate between a cover of a song I wouldn't know otherwise or a Dolphins original. Anyway, it is a more than decent track. Only a few new wave mannerisms in the vocals are relatively dated.
But it's truly the B side which makes the record interesting, with its two solid covers. The Barrett one, short (1'23"), reorchestrated for a classic rock line-up, sober, clean, pays a perfect homage to the song, without trying to copy the style or sound of the original version. The other is maybe closer to the Cale version (but I don't know the original very well), but it is also very good, and it deserves all the more praise as it's probably the work of an amateur band who has remained trapped in the - litterally - in the basements - of British new wave.
There's little chance of this happening, but if one day you come across a copy of this single in a record shop, buy it, even if it's a little more expensive than 10 pence !
Artist : Alvaro
Title : "Mum's milk not powder" (Alvaro Peñas-Rojas)
from the album "Mum's milk not powder" (Squeaky Shoes Records, SSRM 2, 1979)
listen to an extract of the song
official site : www.singing-nose.com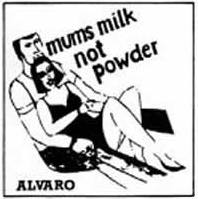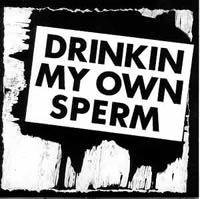 Alvaro is the Chilean with the singing nose, as he dubs himself.
The first time I heard about him, it was once more at Dorian Feller's in the early 1980's. He kept some remnants from the time when he used to distribute Recommended Records and some others, among which some promo button badges of Alvaro's first album,"Drinkin' my own sperm". Written quite large, it looked real punk. Dorian gave me one of these badges, that I still have, but I don't think I ever wore it !
Quelques temps plus tard, lors de l'un de mes séjours à Londres, je suis tombé sur un exemplaire du second album d'Alvaro, "Mum's milk not powder", au fond d'un carton dans une jumble sale, et je l'ai acheté quelque chose comme 30 pence (Alvaro le vend 51 euros sur son site en ce moment, en tant que collector non réédité en CD...).
La pochette est d'une horreur indescriptible (voir ci-contre; c'est un dessin d'Hildegard Schneider, qui signe les paroles d'une chanson : une recette pour faire du pain complet), mais il y a de bonnes choses sur le disque, notamment les deux premiers titres, "Choose your cheese" ("The same way a blind man chooses his cheese, a bloody bed bug chooses my skin") et ce "Mum's milk not powder", que je prenais plaisir à une époque à écouter aussi en accéléré (45t au lieu de 33 t).
Les paroles sont assez incompréhensibles : on s'attend à une ode au lait maternel (les bébés pleurent pour réclamer du lait maternel, pas de la poudre), mais l'un des couplets explique qu'Alvaro a lu dans un journal allemand de 1979 que le lait maternel contient 20 fois plus de poison que le lait de vache...
Sinon, même s'il y manque les monstres qui peuplent les chansons de Stephen Tunney, l'univers d'Alvaro me fait un tout petit peu penser à celui de Dogbowl, un autre expatrié. Car Alvaro est un exilé chilien. Dorian m'avait dit à l'époque qu'il habitait en Allemagne, où "Mum's milk not powder" a été enregistré, mais j'ai été surpris d'apprendre qu'il avait un rôle dans la petite histoire du rock anglais, puisqu'il figure, aux côtés de Joe Strummer, parmi les membres fondateurs des 101er's, le groupe de Strummer d'avant les Clash ! mais je rassure les fans des Clash : ils peuvent conserver leurs économies et ne pas se précipiter sur les collectors d'Alvaro, car sa musique n'a rien à voir avec celle des Clash !
Quant au nez chantant, il se réfère à une flûte à nez, qu'Alvaro utilise notamment ici sur "Washindishes" : Alvaro explique au dos de la pochette qu'il l'a utilisée pour utiliser le son d'un oiseau (pas d'espèce précisée), et qu'il s'excuse auprès des oiseaux !