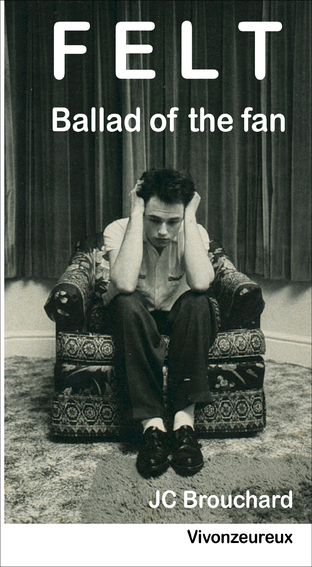 Ballad of the fan
Cover illustration : Photo by Daniel Laine, published in Actuel magazine in May 1984
A Vivonzeureux! publication
© 2011 JC Brouchard

All rights reserved
116 pages
ISBN : 978-2-9536575-3-1
Buy the printed book :
Printed book also on sale at TheBookEdition.com.
Ce livre est disponible en français sous le titre La ballade du fan.
The British band Felt released over twenty records in the 80's. Ballad of the fan tells both the story of the band, by reviewing their records, and that of one of their faithful French fans, JC Brouchard, who once was the spiritual advisor to Creation Records founder Alan McGee.
Felt : Primitive painters (1985). A video shot in 1987, supposedly for
the Brazilian release of the Ignite the seven cannons album.
Lawrence is here with Phil King, who played with Felt in 1987
but did not take part in the recording of this song.

CONTENTS
FOREWORD, by Alan McGee
THE OPTIMIST AND THE POET
PILLOWS & PRAYERS (CHERRY RED 1982-1983)
PENELOPE TREE
THE SPLENDOUR OF FEAR
IGNITE THE SEVEN CANNONS
BALLAD OF THE BAND
LET THE SNAKES CRINKLE THEIR HEADS TO DEATH
POEM OF THE RIVER
FOREVER BREATHES THE LONELY WORD
RAIN OF CRYSTAL SPIRES
A DECLARATION
THE EPICTORIAL JACKSON REVIEW
SPACE BLUES
ME AND A MONKEY ON THE MOON
SUPERMARKET
DENIM : MIDDLE OF THE ROAD
GO-KART MOZART : TEARING UP THE ALBUM CHART
FELT : COMPILATION
BUBBLEGUM PERFUME
FELT : SVELTE AND CRACKED POP, by Lydie Barbarian
DISCOGRAPHY
UNTIL THE FOOLS GET WISE