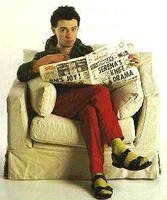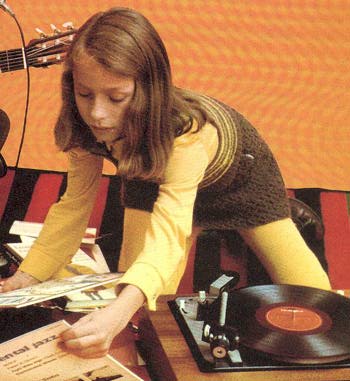 january 2004

The first one is British, around 60 years old, and lives in Germany. The other one is a young American, star of the New-York antifolk scene. Both are writers and performers on the margins of folk and rock. The pairing of Kevin Coyne and Jeffrey Lewis, sponsored by the Froggy Delight site, makes for one of the most exciting billings, on show at the Nouveau Casino in Paris, on February 9th 2004 at 8.30 pm.



Letslivappy! first heard of Les Frères Nubuck during Summer 2003, through the "Apocalypso" compilation released by the Sorry But Home Recording Records label, but they already have a long career behind them. Their smash hit from last summer, "Chez les nudistes", now gives its title to the band's new album, which succeeds in making us forget this grey wet winter. This record, and its indescribable cover art (see below) are a treat. A bit as if French singer Katerine had shed all conventions, and had persevered in home recording instead of hiring professional session musicians. A record that will help you see the year pass by with a dose of optimism that won't even be lucid, that you can get on the label's site.


november 2003

Nearly three years ago, I chanced nearly by accident upon a site that contains an mp3 of a Stockausen title remixed by Acapulco Laps, a parisian band who released a good single for the Lithium club a few years ago. This title, which also features Le Vieux Thorax, is still available for a short time on the Centre de la bombe site. But soon it will be released on a CD, which will be availble on this same site and in specialized shops.

december 2002
Do you need an excuse to watch a US TV series, on French public TV, during the week, in the afternoon, included in a program for teenagers ? No, why should you ? But if really you had to justify yourself, you'd easily find two excuses. First, the show, which like others stars a Simpsons-style family played by real actors, is very good and really very funny. And secondly, the music is by Ween, and the musical adviser is called Ben Vaughn !

Grounded for life
january 2002
Message from Pol Dodu, editor in chief of Letslivappy! (while we await our death...), to Lionel Jospin, French Prime Minister, on january 12th 2002 :
"Dear Mr. Jospin,
I read in the january 9th 2002 issue of "Le Canard Enchaîné" that you have declared to your government over breakfast that you are "both lucid and optimistic".
If you wish to remain so, I cannot advise you too strongly to read Letslivappy! (while we await our death...), the lucidly hoptimistic fanzine, that I publish on the internet at the address http://perso.wanadoo.fr/vivonzeureux.
Livappy!
Pol Dodu"
The Renascent label has just reissued all the first albums by The Sound, one of the classic british new wave bands. That's very good. Most of the albums have extra tracks. That's very good. But the unreleased-on-albums sides of the band's singles have not all been included in these bonus tracks, although there was probably enough space available on the discs. That's unfortunate.

september 2001
The new wave classics still pop up in the news sometime. I am not thinking of the new New Order album, but of Fad Gadget who, after having returned to play a few gigs this year, are awarded a "Best of" release on double CD, including rarities and a remix.
july 2001
If you are a Giant Sand fan and you have not registered to be a member of the unreleased CDs exchange tree "The Sandman series", you are quite wrong ! It is a unique and free way to get, two or three times a year, livre recordings made by fans, or extracts from the band's archives, and all that with their blessing !
Will Oldham, under the name Bonnie Billy, has just released "More revery", a mini-album made-up of 6 studio-recorded covers, which had been previously available in an ultra-limited edition, with the same 6 covers, but recorded live at the Palais des Congrès in Paris.
He'll be back in Europe this autumn for a few concerts, including three "special nights" from 26 to 28 september, as part of the "Les nuits botaniques" festival in Brussels.
june 2001
april 2001
Three years after the fantastic "Zeppelin record", Dogbowl has just pûblished his new album, "Fantastic carburetor man", only available in limited edition through the Eyeball Planet label. To give you an idea, 3 tracks are available in mp3 on Dogbowl's site.
Eloïse and Laurent Orseau have just launched their micro-label, Hinah, which proposes limited editions of unreleased recordings, in a very neat packaging at an unbeatable price. After Véra Clouzot, we can hope for a live recording of Matt Ward in the coming months.
At the time being, you can read on the site of the library of Epernay (choose the "Discothèque" menu) reviews by yours truly of the Modern Lovers album and of "Selections circa 1990-2000" by Giant Sand.
march 2001
After "Chore of enchantment" and "The rock opera years" by Giant Sand a year ago. After "Upside down home 2000", the limited editin solo album three months ago, and the reissue of "Hisser" two months ago, and after the release of the third Giant Sand best-of collection this month, Howe Gelb releases "Confluence" on march 20th, his third official solo album. Essential, of course.
"Comes with a smile", it is a british fanzine published every three quarter with interesting features, a square shape, a neat look, and it does not only come with a smile, it also comes with a 20 track CD. The that comes with issue 7, just out, conatinas an unreleased track by Howe Gelb, and songs by Hawksley Workman, Santa Sprees, Brendan Benson, David Grubbs...
The Jasmine Minks release their newsingle, "Daddy dog" (Poptones), more than ten years after the previous one, but less than two years after their come-back, on the Vivonzeureux! compilation.
february 2001
Will Oldham will play live in Paris at the Café de la Danse on march 15th, in the week that sees the release of the second Bonnie 'Prince' Billyalbum, "Ease down the road". In France, he will also play in Nantes (16/3), Bordeaux (17/3), Marseilles (27/3) and Lyons (28/3).

The second volume of "Le Meilleur de moi", the comic by Colonel Moutarde and Philippe Dumez, has just been published.
Giant Sand is the guest of P.J. Harvey for her european tour this winter, notably for her concert at L'Olympia in Paris on february 26th, which is unfortunately very expensive and already sold out.
20 years after their split, the Young Marble Giants get back together for a concert in London, as part of Rough Trade's 25th anniversary celebrations. deo.com/roughtrade
CALEXICO has just opened its official site, casadecalexico.com