LETSLIVAPPY!
(WHILE WE AWAIT OUR DEATH)
the lucidly hoptimistic fanzine

march 28th 2004

back home

version française
presents...
LETSLIVAPPY! (WHILE WE AWAIT OUR DEATH)
THE LUCIDLY HOPTIMISTIC FANZINE

---
-- THE GIANT SAND DOCUMENTARY "DRUNKEN BEES" IS REISSUED ON DVD !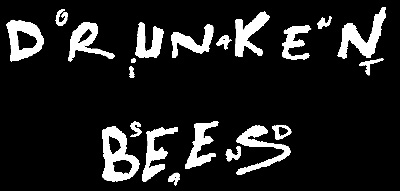 "DRUNKEN BEES", the Giant Sand docuemntary made by Marianne Dissard in 1995 has just been reissued on DVD. This gives us the opportunity to remind you that, since 1998, you can find on this site an interview of Marianne Dissard about the film (in French), and the full transcript of the dialogues (in French and in English).
---
-- LES ROBOTS-MUSIC : THEY PLAY KRAFTWERK HITS !



The story of the Robots-Music, a French band from the 1960's-1970's, saved from oblivion by Kraftwerk. A Vivonzeureux! Records release which will make history !
---
-- "RAFFARIN IS NOT DEAD", BUT TA GUEULE RECORDS BURIES THE FRENCH PRIME MINISTER



Our friend Le Vieux Thorax releases "Raffarin is not dead", the first compilation on his tiny ultra-independent label, with a lot of artists friends who only had one instruction : use a sample of the voice of Jean-Pierre Raffarin...
---
-- GIANT SAND IN PARIS IN FEBRUARY, AND AGAIN IN FRANCE IN JUNE !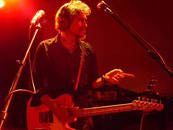 Vivonzeureux! couldn't make it to the Giant Sand concert in Paris on February 19th, but we are happy to present you with a photo coverage by Cathimini from that night. It is the best possible way for us to announce the forthcoming Giant Sand concerts in France in June 2005 as part of their European tour.
---
-- PASCAL COMELADE : POST-FLOOD STREOPHONIC DISCOGRAPHY



To follow suit after the detailed discography published by Pascal Comelade himself in 1999 in his "Ecrits monophoniques submergés", we've put online a tentative concise discography of his 21st century releases, which mostly aims to be a help for the fan lost in his plethorical and cosmopolitan production...
---
-- PATRIK FITZGERALD : ALL THE YEARS OF TRYING



Patrik Fitzgerald is not omitted from punk and new wave anthologies, but that's not enough to represent properly the career of an artist who released many records from 1977 to 1986 and beyond. Two CD compilations exist, but there was none covering the whole of his output, up to and including his latest album, "Room service". This is a gap we are now trying to bridge with this latest addition to our virtual catalogue, "All the years of trying".
---
-- ON A TOUS DES DEFAUTS



Far from any best-of compilation or all those end-of-month, end-of-year or end-of-the-decade selections, "On a tous des défauts" gives the opportunity to Vivonzeureux! to dwell on the records that have accompanied us recently and have provided us with a great quantity of joy and musical pleasures, from CocoRosie to Laura Veirs, including the Sorry But Home Recording artists and Junkie Brewster. And it gives you an easy access to a tonic concentration of lucidly hoptimistic musical productions.
---
-- VIVONZEUREUX! BACK ON LA RADIO PRIMITIVE !



It's quite a few years since Vivonzeureux! deserted its birthplace, La Radio Primitive in Reims, France. But we're now back on the air with "Si vous passez par là", a weekly 3 minute chronicle from somewhere else in the world, broadcast thrice a week on 92.4 FM.
---
-- TU M'AS TROMPETTE MON AMOUR : THE VIDEO



What best to go with a discographical love story than a video made with record covers ? That's what Pol Dodu gives you now with "Save the last trumpet for me", to complement his photo-novella available elsewhere on this site...
---
-- "SOMEONE STOLE MY WHEELS" : THE VINTAGE VIDEO BY JC BROUCHARD & BIFF, BANG, POW !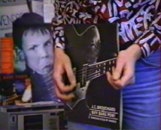 Thanks to new technical equipment, Vivonzeureux! Records is now able to supply you with a free download of the French produced video for «Someone stole my wheels», the single by J.C. Brouchard with Biff, Bang, Pow ! released by Creation Records in the UK in 1986...
---
-- TU M'AS TROMPETTE MON AMOUR : A DISCOGRAPHICAL LOVE STORY



Try to imagine a photo-novella, the pictures of which would consist in covers of records by the famous french trumpet player Georges Jouvin, and with texts mostly made up of titles of songs the man with the golden trumpet has recorded... Well, «Tu m'as trompette mon amour» is not exactly that, but it is something approaching, a bit like a discographical love story !
---
-- DOWNLOAD LE SARKOZY DU DISQUE



The new single by our friend Le Vieux Thorax stars two record company moguls devising about the evils of music downloads and references former French Home Secretary Nicolas Sarkozy. The Robin Hood of samples took this as an opportuny to showcase his looping wit on his new single "Le Sarkozy du disque", available as a free and legal download on his own website.
Download "Le Sarkozy du disque" and pass it on to your friends !
---
-- LES PETITS SABLES PAY HOMAGE TO GIANT SAND



Some Giant Sand fans have amused themselves recording covers of their favourite band. Because of a series of mishaps, the French version of "Nowhere" by Les Petits Sablés is not featured on the first distributed copies of the "Fan-dango" album. Vivonzeureux! Records is happy to correct this mistake by allowing you to freely download "Nulle part".
---
-- BIFF, BANG, POW ! THROWS ITS WATERBOMB !


The Rev-Ola label has just launched a series of compilations dedicated to artists from the late Creation Records. Of particular interest to us is the Biff, Bang, Pow ! album, "Waterbomb".
---
-- I BELIEVE IN ROCK'N'ROLL : A CREATION 20TH ANNIVERSARY COMPILATION


Creation Records is no more, but the music released by the label is still with us. Our compilation, "I believe in rock'n'roll", célebrates the best of the production of the label run by Alan McGee and his friends.
---
-- RELEASE OF A MARK BEER RETROSPECTIVE


One single on Rough Trade Records and an unheard album in 1981, and Mark Beer disappeared... Until Vivonzeureux! Records decided to collect all his recordings on "Recollections", a rétrospective.
---
-- DISCOVERY OF A LEWIS FUREY "NUGGET"



Sometimes, life can give you the impression you live it like you're in a fairytale...
Read elsewhere Lewis Furey's own comments about each of the songs from his classic first album
---
-- LEWIS FUREY, THE IDOL OF A YOUTH



Before Jonathan Richman, Elvis Costello, Devo, the Television Personalities, Giant Sand and others regularly featured in Letslivappy!, Lewis Furey was the first artist I followed very very closely...
---
-- L'ANGE AU SOUPIR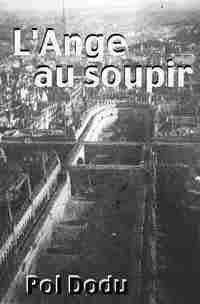 VIVONZEUREUX! PUBLISHES THE FIRST ELECTRO-SERIALIZED NOVEL STARRING THE CITY OF REIMS
Starting from April 6th 2003, Vivonzeureux! goes into publishing with the release (in French) of Pol Dodu's «L'Ange au soupir», in the form of an electronic serialized pseudo-noir novella.
Following the publication of a vitriolic article about Reims in a parisian newspaper, a young journalist is sent there to try and redress the situation by writing a more favourable piece. Very soon, he'll find that Reims, the true hero of this tale, is not as quiet a city as people say…
«L'Ange au soupir» was first published in the form of 15 emails sent every other day from april 6th 2003. It is now available as a free download on our site.
---
-- SURPRISE PARTIE HOPTIMISTE

A few years after "Excusez-moi, je me suis occupé un peu de tout", Vivonzeureux! is happy to present you with our second compilation, "Surprise partie hoptimiste". But the times they are a-changing. This time, our compilation is completely free and available in the form of downloadable MP3 files.
---
-- VIVONZEUREUX! RADIO IS BORN !
We had been toying with the idea for a long time, but now it's done.
After starting out as a radio show (on a local radio in Reims, from 1989 to 1998), and involving into a fanzine and then a webzine, Vivonzeureux! is now a radio as well, on the internet, available from this address : www.live365.com/stations/300170.
---
-- DOGBOWL BARKS IN FRENCH LIKE A MAD DOG !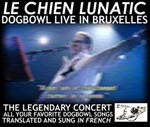 Dogbowl on stage in Brussels, singing his greatest hits in French... ?!?That's no joke !
---
-- WHEN JAMAICA INVITES ITSELF DEEP IN THE HEART OF FRANCE....




You often dream of finding dead rare records sold for nothing in a jumble sale. But it never happens. Or hardly ever..
---
-- VIVONZEUREUX! LAUNCHES ITS (VIRTUAL) LABEL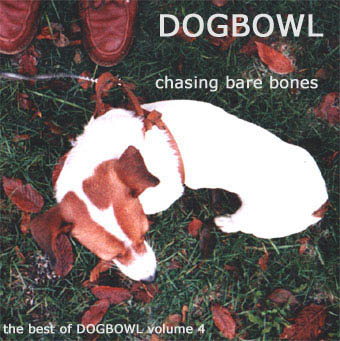 With Vivonzeureux! Records, we are proud to have launched the first truly virtual recod label !
Here, you'll find nothing for sale, nothing to buy, nothing to listen to. No product, no media. Letslivappy! offers you dream music, and it's better than thin air !
---
STOP ME (NOT) IF I RAMBLE ON AGAIN !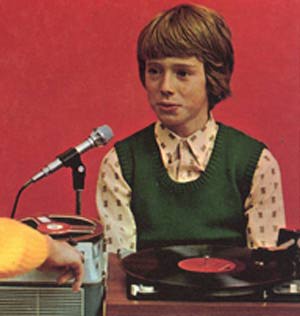 The purpose in this new section is to tell you about some songs which, for one reason or another, are difficult to get hold of these days. To make the point clearer, a 30 second extract of each song will be supplied nearly each time.
---
ISSUE 6 OF LETSLIVAPPY!/VIVONZEUREUX! IS OUT !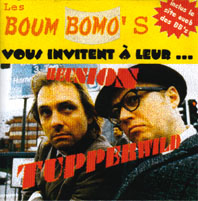 Yes, the 6th paper issue of Vivonzeureux! is now available. But, contrary to this website, the fanzine is only in French !
If you can read French, write to us to know how to obtain a copy. Otherwise, seeing as the features were all previously published here, most of them with a pidgin english translation, it might just be easier for you to click to read the pieces on Lewis Furey, M. Ward, Kevin Ayers, Howe Gelb, Grandaddy, Dogbowl and our listings Friends rock'n'roll et l'hoptiliste.
You can click here to read the front page column (only available in french...).
---
MESSAGE FROM POL DODU TO LIONEL JOSPIN
Latest news!
Click here to read the message that Pol Dodu has sent to Lionel Jospin, French Prime Minister, on january 12th 2002.
---
LETSLIVAPPY!'S SOUVENIR PHOTOS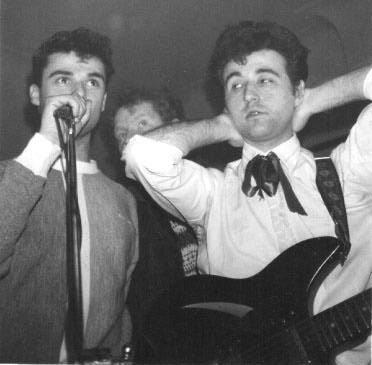 While rummaging through my papers, I chanced upon some photographs taken by me, or by J.C. Brouchard, over the last twenty years. Here they are, in no particular order, with or without a commentary...
---
KEVIN AYERS, LET THE GOOD TIME HAVE YOU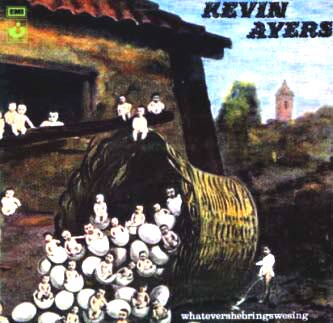 Up until recently, it would have been nigh on impossible for me to quote just one good album released in 72 among those I really love. And then I dioscovered "Whatevershebringswesing" by Kevin Ayers...
---
2001 : A MUSICAL HOWEDYSSEY !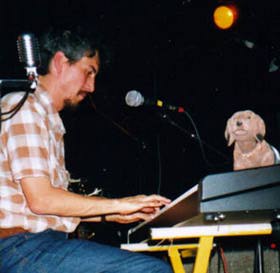 Six albums, countless concerts : 12 months of the musical life of Howe Gelb and Giant Sand are reviewed...
---
SAY NO TO YOUTH RULE !


"Say no to youth rule !", this is maybe, but probably not, what Reg Cooper thinks. He is a Nottingham pensioner, registered blind, who, at 72, has just released his first country-tinged album.
---
ENTERTAINMENT, MY PAL, THAT'S SERIOUS BUSINESS !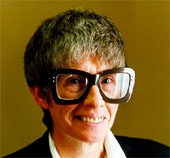 "Entertainment, my pal, that's serious business !", that's under the sign of this utterance attributed to French über-star Johnny Hallyday (in 1981, light-hearted times when the French government comprised a secretary of state for free time...), that will be placed the two nigts of deejaying proposed by Le Vieux Thorax and his friends, myself included, in Paris and Reims on may 31 and june 9th.
---
2001, THE YEAR LE VIEUX THORAX BROKE ?


In 2000, his first CD single, "Seulement blessé", has been hailed by everyone. At the start of this year, as he releases his first album, which compiles the best songs of his five cassettes, one can hope that 2001 will be the year of Le Vieux Thorax !
---
THE ARCHANGEL'S VISITS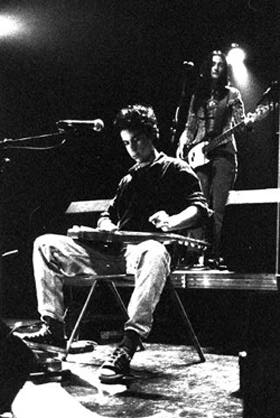 Since his album "Duet for guitars #2" reached us last summer, Matt Ward has hardly left the spotlight in Europe...
---
MAYBE GRANDADDY SHOULD FORGET HOW TO PLAY BEFORE GOING ON TOUR ?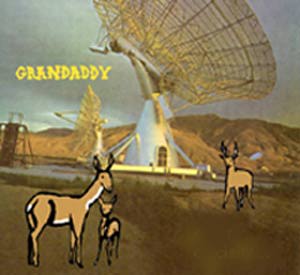 J'aime beaucoup Grandaddy, mais ils me déçoivent beaucoup sur scène...

---
S.O.S. A MORT !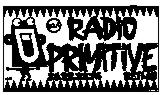 RADIO PRIMITIVE, the rock radio from Reims, France, which first welcomed Letslivappy!/Vivonzeureux! under its original guise as a radio show, is in great difficulty. To survive, the radio has just launched a voluntary membership campaign. To know more about it and help save the birthplace of optimistic hip-pop, please visit the Radio Primitive website.
---
IT COSTS NOTHING TO ASK...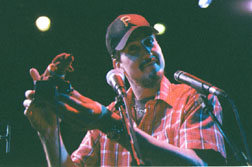 After a first tour last Spring, Calexico, Giant Sand and Howe Gelb come back to Europe this autumn, including a Giant Sand concert in Reims on October 20th and one on October 23rd in Nantes, sharing the bill with Jonathan Richman. OK, I know I shouldn't' ask for too much, but it costs nothing to ask for a dream programme for these Howe Gelb, Joey Burns and John Convertino concerts...
---
MATT WARD BRINGS GOOD NEWS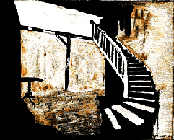 Sponsored by Howe Gelb, having worked with Jason Lytle, there was little chance for Matt Ward to deceive us with "Duet for guitars #2", his first solo album. Well, he's picked up the challenge, with a great record, quiet and fragile !
---
WITH MOUTARDE AND DUMEZ, THE MAYONNAISE GELS !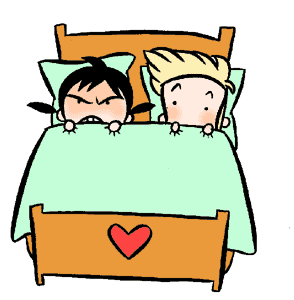 "Le meilleur de moi", a comic book adapted from the fanzine "Plus jamais malade en auto", a musical manifesto by the A.P.C. label and great songs released by furniture remover Johnny Dowd ! There's no telling, life can be fine !
---
GOOD FEELINGS ARE BACK !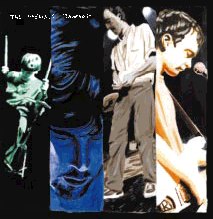 Three years after their last record release, one thought The Feelings were dead and buried : they actually are, unfortunately. But fans of slightly deranged music are given a treat : an unreleased album has just been released !
---
PLUS JAMAIS MALADE EN AUTO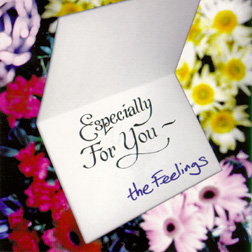 Issue n° 6 of the fanzine Plus jamais malade en auto has just been published. As usual, it's a treat!
---
JOEY BURNS, JOHN CONVERTINO AND HOWE GELB
EMBARK ON A EUROPEAN TOUR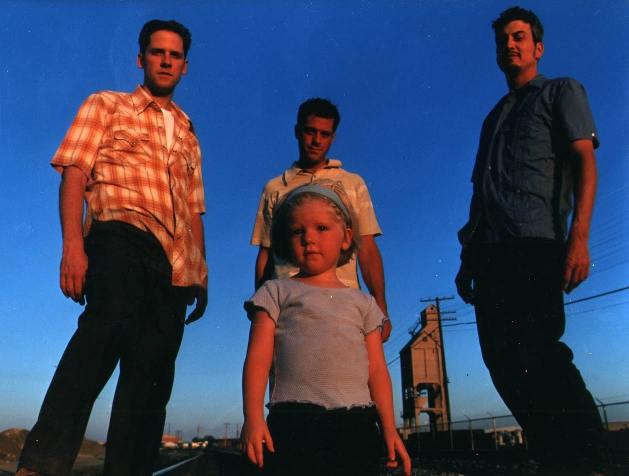 To celebrate the release of the new Giant Sand album ("Chore of enchantment") and the third Calexico album ("The hot rail"), Giant Sand (Howe Gelb, Joey Burns, John Convertino), Calexico (Joey Burns, John Convertino) and Howe Gelb will trek across Europe from the end of april to mid-july.
To help you sort out the dates and prepare your travels to the gigs, Letslivappy! has taken the pain to compile the combined list of all the dates (over 50!) with an easy-to-understand colour guide !
---
THE DODGE VEG-O-MATIC AND THE SOLEX MOULINEX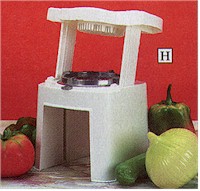 Florence Dolisi, a Jonathan Richman fan, has started an inquest about the Dodge veg-o-matic myth. At her request, Vivonzeureux! has studied the question and has been able to prove the existence of the Dodge veg-o-matic!
---
CALEXISAND'S FEELINGS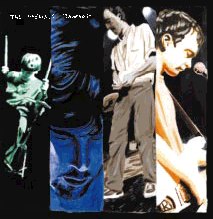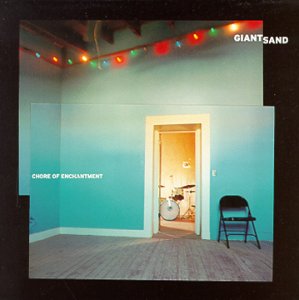 Three years after their last record release, one thought The Feelings were dead and buried : they actually are, unfortunately. But fans of slightly deranged music are given a treat : an unreleased album should be released within a few weeks, and an unreleased song is already available for download !
As for Giant Sand and Calexico fans, they are not too badly treated, with the official release within a few months of new albums by both bands. In between, you can go looking for a good quantity of previously unreleased Calexico tracks, including a full live album !
---
THE GIST OF THE MISTAKES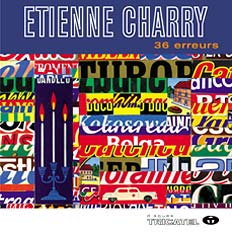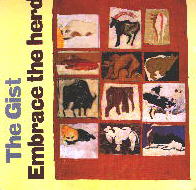 A recent album,"36 erreurs" (36 mistakes) by Etienne Charry that is 100% optimistic hip-pop, and the rerelease of a new wave classic, "Embrace the herd" by The Gist, which could have been error free...
---
BON SUICIDE, MESSIEURS


Issue n° 5 of the fanzine "Bon appétit, messieurs" is just out. It is entirely dedicated to the band Suicide. As the fanzine is in French, I didn't bother translating the piece of news... This fanzine gave me the idea to update the old feature about the new wave classics : I have added some colour and many links to band sites. It being an old feature, it's also in French, but as it is mostly a list of records, it should still be understandable !
---
EXCUSE-ME, I TOOK CARE OF JUST ABOUT EVERYTHING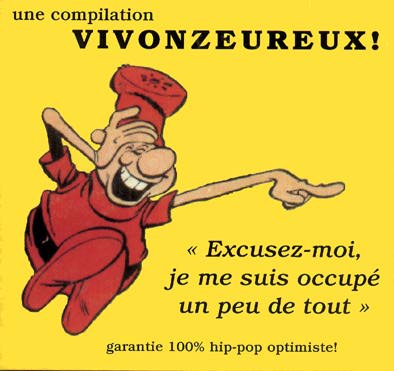 Issue n°5 of the printed edition of Vivonzeureux! (en attendant la mort...) is now available! And moreover, it comes for the first time with a 9 track compilation CD, which is pure optimistic hip-pop of course.Click here to know all the details.
---
FAMILY FODDER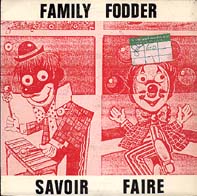 Family Fodder was one of the rare new wave bands not to have benefitted from a CD rerelease of their records, originally out at the end of the 70's and in the early 80's. Good news : a far-out US micro-label, Dark Beloved Cloud, has taken up the challenge and released a CD, "Savoir faire : the best of Family Fodder" It gives us the opportunity to recall in detail the story of this badly underestimated band.
---
GIANT SAND'S CHORE OF ENCHANTMENT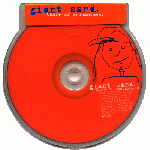 Some news concerning Giant Sand, and their "Chore of enchantment" album, as well as a brief account of Howe Gelb and Calexico's respective european tours last Spring.
---

JONATHAN RICHMAN & THE BAND OF BLACKY RANCHETTE ?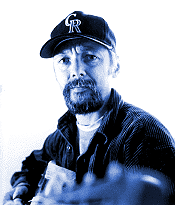 Sadly, it's only a daydream, but here's the story of the tribute album to Rainer that Jonathan Richman and The Band of Blacky Ranchette might have recorded together.
---

GRANDADDY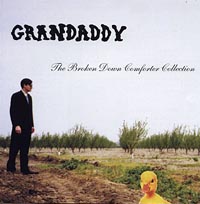 It's not really new, but it's just out. It's not properly their second album. It's mid-price but it's not cheap. Its "The broken down comforter collection".
---

HIP-POP ALERT ?
Is optimistic hip-pop spreading all over the world ?. Very probably not. At least that's what the latest internet statistics show.
---

BRODé TANGO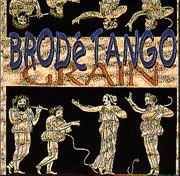 "Learn to mistrust all this overanalysis, I'm not so sure that you are a friend", that's what sings Dorian Feller, the mastermind hiding behind the Brodé Tango moniker. But yet I picked up the challenge...
---
GRANDADDY
Avec encore des mois de retard, je finis l'article sur Grandaddy, groupe américain qui, en six mois, un album, un mini-album, un 45t et trois maxis, a gagné sans coup férir sa place au panthéon de la hip-pop optimiste. Maintenant, puisque j'ai raté leur mini-tournée française du début 98, il ne me reste plus qu'à attendre d'avoir la chance de les voir en concert... (ce qui devrait se faire prochainement, puisque le groupe est en tournée européenne cet automne, avec notamment un concert à Reims (L'Usine) le vendredi 20 novembre, et un concert à Paris (La Cigale) le 8 novembre, dans le cadre du festival des Inrockuptibles,avec Calexico aussi à l'affiche, et une poignée de groupes a priori moins intéressants.
---
JONATHAN CHANTE !
Chacune des éditions papier du fanzine Vivonzeureux! comporte un article sur Jonathan Richman. C'est une règle qui ne souffre pas d'exception. Etant donné que le n° 4 du fanzine devrait sortir plus ou moins prochainement, voici le nouvel article sur Jonathan Richman,un compte-rendu plus ou moins fictif de la prestation de Jonathan aux Victoires de la musique en 2003, en français et en hommage à Charles Trénet!

In every printed issue of the Vivonzeureux! fanzine, there is a piece about Jonathan Richman. It's just a rule that suffers no exception. As issue #4 is coming your way, here's the new Jonathan Richman piece, a (somewhat fictional) piece set at the French national music awards in 2003, which tells the story of the performance of Jonathan Richman, in French, in tribute to the 90th birthday of French singer Charles Trénet.
---
DISCOGRAPHIE ROUGH TRADE
Vivonzeureux! a publié il y a deux ans une discographie complète du label Rough Trade.
Il en existe désormais sur le web une version beaucoup plus complète sur le site de Rough Trade music.

---
UN AN
Ce fanzine a fêté en mai sa première année de publication sur Internet. Pour célébrer ça, Pol Dodu, ci-devant rédacteur du fanzine et producteur de l'émission de radio du même nom, a fait le DJ au Baradaz (79 bd du Général Leclerc à Reims, France) le jeudi 28 mai à partir de 21 h, dans le cadre des soirées Prim'Team de La Radio Primitive. La programmation était bien entendu 100% hip-pop optimiste, et tous ceux qui n'ont pu venir à Reims peuvent essayer d'en reconstituer plus ou moins l'ambiance à partir de la liste des titres programmés.

---
QU'EST-CE QUE LA HIP-POP OPTIMISTE
Cela fait des années que je refusais de le faire, mais j'ai cédé. Je vous donne enfin une réponse partielle à la question "Qu'est-ce que la hip-pop optimiste ?". Et pour illuster le propos, vous trouverez pour la toute première fois un échantillon conséquent de la discothèque hip-pop optimiste (plus de 1100 disques, en attendant mieux). Profitez-en!

After years of relenting, I've given in and given a partial answer to the usual question: "What is optimistic hip-pop ?". And to top it all, this is accompanied by a partial listing of the optimistic hip-pop discotheque (1100 records and going). Enjoy it!

---
THE FEELINGS
Cela fait presqu'un an et deux albums que j'ai découvert LES FEELINGS. Ils font les beaux soirs de Vivonzeureux! (l'émission). Tous les amis à qui je les fait écouter sont séduits, cherchent à remplacer les cassettes que je leur fait par un beau CD, mais hélas leurs disques ne sont pour l'instant pas distribués en Europe.
En attendant que cela vienne, découvrez THE FEELINGS grâce à Vivonzeureux!, allez visiter le site de leur label, et même achetez leurs disques si vous le voulez.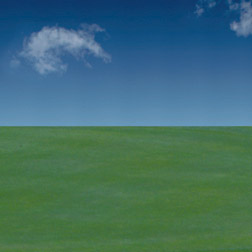 ---
DRUNKEN BEES

Avec beaucoup de retard (au moins deux mois...) voici enfin l'interview de Marianne Dissard, qui a réalisé en 1996 un film documentaire sur GIANT SAND intitulé "Drunken bees", et comme vous êtes sages, et que vous n'avez peut-être pas l'occasion de voir ce film, Marianne vous propose l'intégrale des dialogues de ce film, en version originale anglaise, ou en français.
---
Hi, this is the one and only media dedicated to optimistic hip-pop.
It was originally a radio show broadcast on La Radio Primitive, a local non-commercial FM radio in Reims, France
(the show stopped broadcasting in july 1998).
Since 1994, it is also an irregularly published fanzine, which has a web version (the one you're reading)
on line since march 1997.
---